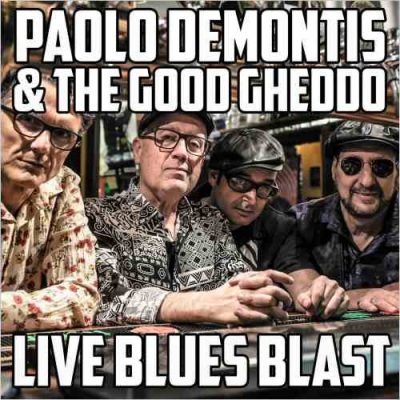 Artist: Paolo Demontis & The Good Gheddo
Album: Live Blues Blast
Year Of Release: 2022
Format: FLAC (tracks)
Tracklist:
1. Talk Is Cheap (Live) (3:41)
2. I Wish You Would (Live) (7:16)
3. Lollipop Mama (Live) (4:18)
4. Talking To You (Live) (5:45)
5. Hoochie Coochie Man (Live) (5:40)
6. Born In Chicago (Live) (3:19)
7. I Believe (Live) (6:40)
8. Don't Touch My Blues (Live) (7:01)
9. Tequila Nights (Live) (3:43)
10. Another Fine Day (Live) (5:25)
11. Juke (Live) (4:17)
12. Shake Your Hips (Live) (6:09)
13. Triple Trouble (Live) (5:20)
14. The Creeper (Live) (4:56)
When reviewing Paolo Demontis' previous releases Blues Blast writer Greg Szalony suggested that "after two CDs of much the same, it may well be time to add a few musicians into the mix". Well, looks like Greg's advice has been heeded, as Paolo has joined forces with established trio Good Gheddo to form this quartet: Paolo on harp and vocals, Vincent Petrone on guitar and vocals, Paolo Sclaverano on bass and Luca Bozzola on drums. This album was recorded live in April 2022 in Rivoli, Italy and we get to hear the whole show here, a substantial fourteen tunes, three originals and eleven covers.
As Greg noted in his previous reviews, Paolo sings with a heavy accent, but is clearly a master practitioner on his chosen instrument. The accent is less of a problem on familiar tunes like Billy Boy Arnold's "I Wish You Would", rather more so on less frequently heard songs like William Clarke's "Lollipop Mama", but both tracks have great solo work from harp and guitar. Many of the tunes are reprised from the cream of harp players' repertoires and there are some familiar names there, Paul Butterfield, Little Walter, Slim Harpo, James Cotton as well as more 'modern' exponents like Gary Primich and Tim Gonzalez. The Butterfield selection is "Born In Chicago" (though actually written by vocalist Nick Gravenites) and is given a rough and ready treatment, the shortest cut on the album. Little Walter's "Juke" is the classic for harp players to strut their stuff and Paolo really impresses here, the tune placed at the start of a rousing finale to the album, immediately followed by the familiar sounds of "Shake Your Hips" (complete with vocals through the harp mike), Primich's "Triple Trouble" (distorted vocals did not help here) and Cotton's famous instrumental "The Creeper" which closes the show in fine fashion.
Material from outside the harp players' union includes Johnny Winter's "Talk Is Cheap" which opens the set, Willie Dixon's "Hoochie Coochie Man", played in a slightly more funky style than we usually hear, and "Another Fine Day" by Patrick Ford, the drummer brother of guitarist Robben. The three originals are neatly shared across the band: Vincent's shuffle "Talking To You" sounds good and the vocals are clearer (perhaps Vincent singing on his own song?); as on most of the tunes here, the instrumental features are strong, this time mainly the guitar. "Don't Touch My Blues" is a slow blues from Paolo which opens with an extended statement from Vincent before Paolo enters on vocals; at seven minutes there is ample space for both men to feature at length. The third original "I Believe" is credited to the whole band and works off a nagging riff from which Paolo launches a fine solo.
Overall this live recording shows what the band is all about with plenty of guitar and harp work on show.
BY JOHN MITCHELL