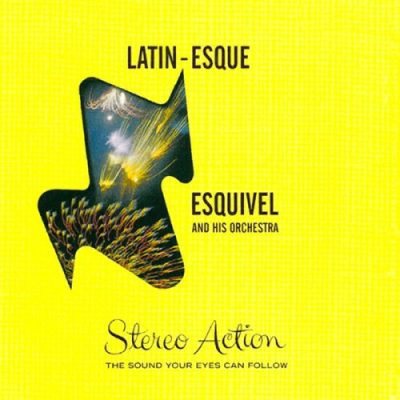 Artist: Esquivel
Album: Latin-Esque
Label: RevOla
Year Of Release: 1962/2022
Format: FLAC (tracks)
Tracklist:
01 – La Raspa (Remastered) (1:52)
02 – Adios, Mariquita Linda (Remastered) (3:16)
03 – Jesusita En Chihuahua (Remastered) (2:22)
04 – Cachito (Pedacito) (Remastered) (2:25)
05 – Latin-Esque (Remastered) (3:04)
06 – La Paloma (Remastered) (2:06)
07 – Estrellita (Remastered) (2:32)
08 – Cachita (Oyeme) (Remastered) (2:23)
09 – Jungle Drums (Canto Karabali) (Remastered) (3:53)
10 – Mucha Muchacha (Remastered) (2:19)
11 – You Belong to My Heart (Remastered) (2:44)
12 – Carioca (Remastered) (1:45)
This album has several musical and historical significant aspects, making it Esquivel's most desirable. First, it is one of only three or so truly great RCA Stereo Action ("The Sound Your Eyes Can Follow") albums. The music is deliberately scored for channel separation, but there is more to the stereo gimmickry than the arrangements. Not counting layered-track (multi-dubbing) efforts, Latin-Esque was the first album recorded with total stereo separation — two separate orchestras in two separate studios performed, connected by headphones. The results are fairly fantastic. Latin-Esque also is Esquivel's first stereo album in the Latin-esque style of his great first album, To Love Again. ("Jungle Drums" from that LP is updated here.) The artist's jaw-dropping masterpiece of zany pop, "Mucho Muchacha," is a highlight. "Carioca," "La Paloma," and several other standards also were well-chosen for this project. This album was essential to the renaissance of Esquivel's popularity in the 1990s.