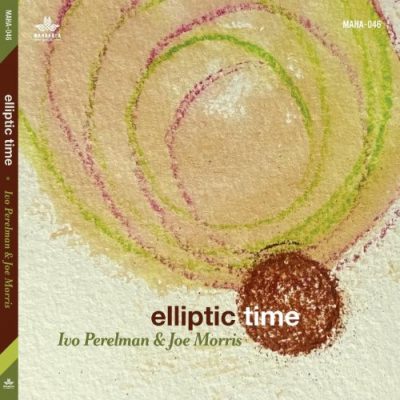 Artist: Ivo Perelman and Joe Morris
Album: Elliptic Time
Label: Mahakala Music
Year Of Release: 2023
Format: FLAC (tracks)
Tracklist:
1. Elliptic Time (15:09)
2. Invisible Mass (12:21)
3. Gravitational Pull (7:05)
4. Palpable Energy (10:06)
5. Cosmic Rays Music (3:18)
Personnel:
Ivo Perelman: tenor sax
Joe Morris: guitar
Innovative saxophonist Ivo Perelman showcases his unique artistry to its fullest on duets with like minded musicians. Indeed, in the third decade of the 21st century he has released several of these with saxophonists, other woodwind players, pianists and guitarists. On this intriguing recording Perelman is paired by equally idiosyncratic guitarist Joe Morris.
This is not the first time the two have collaborated, in fact, their first meeting was the rather unusual entry in Perelman's discography, Strings (Leo 1997). On it Perelman switches to cello from his customary tenor sax. Since then there have been a handful of superb albums featuring both artists and underscoring their easy, spontaneous synergy.
The current session consists of five interlinked musical conversations that stimulate with their brilliant eloquence and move with their emotive depth. The ambience is intimate and contemplative as Perelman's brief, crisp lines bounce off Morris' angular chords with fiery agility. Inspiring one another Morris and Perelman transform their exchanges into a delightfully dissonant repartee that, despite its furious energy, remains laced with introspection. On the quieter passages their individual musings shimmer with melancholy and a distinctive and captivating lyricism.
The singularly thrilling aspect of the tunes here, as in Perelman and Morris' past partnerships, both with each other and with others, is the sublime balance of synergy and independence. Each individual extemporization follows a logical progression of its own yet it only takes on a solid form because of its interaction with the other. Of course both Morris and Perelman are master improvisers who also thrive on this cross pollination. This is not a "battle of skills" , it is an intelligent and provocative dialogue between friends. They challenge one another, empathize and push boundaries, creating simultaneously ethereal and earthy performances.
The pieces to comprise this work are urgent and relevant as they originate from this dynamic, on the spot, interactions. Yet, they are also meditative and timeless because of the ingenuity of the duo and its ever evolving, one of a kind, musicianship. Perelman and Morris' virtuosity and the perfect command of the instruments is just the beginning. Both men have a lot to say and they do that exquisitely well, making this outing a demanding yet ultimately rewarding listening experience.
– Hrayr Attarian