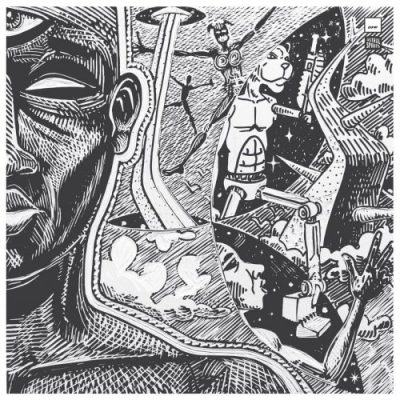 Artist: Konjur Collective
Album: Blood In My Eye: A Soul Insurgent Guide
Label: Astral Spirits & cow Music
Year Of Release: 2022
Format: FLAC (tracks)
Tracklist:
01 – George Jackson (21:16)
02 – Ancestral Dialectic (15:14)
03 – Spirit Realm (5:21)
04 – Jonathan Jackson (6:27)
05 – Dog Star Warrior (4:23)
06 – Illegitimate Law (4:13)
07 – Wade In The Water (4:39)
08 – Revolution Should Be Love Inspired (7:52)
Personnel:
Show Azar – Synthesizer
Jamal Moore – Alto Sax, Trombone, Electronics, Percussion
Bashi Rose – Drums
Blood In My Eye is a super special record for many reasons. One, the roots of this lp stem from the ever-expansive creative process of percussionist Bashi Rose. A long-time creator in many mediums, Bashi is probably responsible for leading many Baltimore youth into various forms of expression via mentorship, performing arts, and deep conversation. Bashi has been one of my biggest influences over the years.
Two, the record is the foundation on which cow: Music sits. It was during the height of the COVID-19 pandemic that Bashi shared with me the record in its unmastered form. After giving it a few listens I knew that Astral Spirits would be a great place to release this masterpiece. After a few initial meetings with Nate Cross and the various members of the Collective, my dream of cow: Music was born. Though Chris Williams Quintet's 'Live' was the first release, it was Blood In My Eye that made our start possible.
Three, Baltimore, Maryland has always been a hotbed of musical activity. Legends such as Chick Webb, Billie Holiday, Stanley Cowell, Lafayette Gilchrist, Vattel Cherry, and Gary Bartz have all called the city home at some point in time. Blood In My Eye is not only an album that works as a dedication to political prisoner / revolutionary George Jackson but a new chapter in Baltimore's recorded musical history. For far too long the city has quietly created while other cities have flourished. Well, that is about to change. The 2xLP suite is a rollercoaster ride of Black Empowerment and emotional expression like nothing else available today.