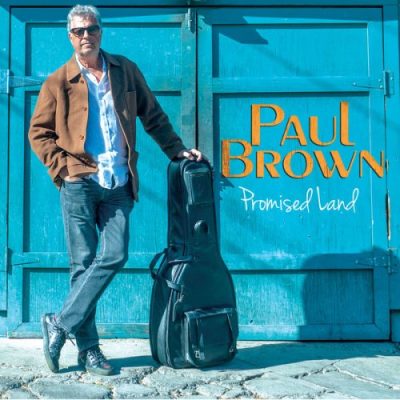 Artist: Paul Brown
Album: Promised Land
Label: Shanachie
Year Of Release: 2022
Format: FLAC (tracks+.cue)
Tracklist:
01. Secret Sauce
02. Hey Dude
03. Wolfpack
04. Elegance
05. Promised Land
06. Don't Stop (feat. Marion Meadows)
07. Yo Tengo
08. 7 and 7 (feat. Euge Groove)
09. Da Spot
10. Round and Round
If the epicenter of smooth jazz is to be pinned on one person, there is no way around producer, guitarist and composer Paul Brown. In his studio Funky Joint he has produced numerous smooth jazz projects, of which more than 40 pieces became No.1 hits.
For many years Paul has also been intensively pursuing his solo career as a guitarist and singer. With the album Promised Land (2022), Paul has returned to the label Shanachie Entertainment. Of course, Paul has again been able to gather around him a wide range of well-known names as studio musicians, who are listed in the credits.
The album opens with Secret Sauce showcasing Paul's signature guitar sound in all its beauty. This song, rightly chosen as the first single, will surely make its way into the charts.
Hey Dude is inspired by the great Beatles song Hey Jude. Brown describes "Hey Dude" as a "smooth Beatles type homage." Wolfpack is Paul's collaboration with Joe Wolfe, who plays on this tune bass, keys, percussion and drums. Those who love Pat Metheny's This Is Not America will also find much to like in this epigone.
The aptly titled piece Elegance wins over the audience with his easygoing style in which every note unerringly creates an inviting melody. Promised Land is a crossover song to country music featuring Paul Brown's smoky voice and Shane Theriot on most of the other instruments.
Don't Stop features Marion Meadows on soprano sax. His romanticizing playing style gives the song a special degree of suaveness. Yo Tengo (I Have) rides the Bossa Nova wave with the ease of an accomplished guitarist.
7 And 7 features prominent saxophonist Euge Groove in a question and answer style with Paul. Da Spot sends a feel good flashback to the time of Stevie Wonder's Signed Sealed Delivered with a well-performed horn set consisting of trumpeter Ron King and saxophonist Greg Vail.
The album closes with Round And Round with which Paul brings back the music we have missed for so long. The guitar has the timbre of B.B. King's The Thrill Is Gone Away and Shane Theriot on vintage organ completes the whole thing perfectly.
Paul Brown's album Promised Land is packed with good sound, emotion and memories. All the ingredients that make a first-rate album.