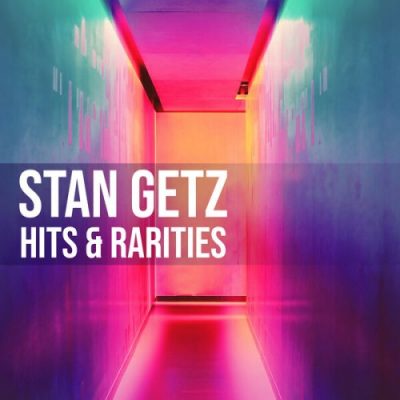 Artist: Stan Getz
Album: Hits & Rarities
Label: UMG Recordings, Inc.
Year Of Release: 2022
Format: FLAC (tracks)
Tracklist:
01. O Pato
02. Sambalero
03. Blowin' In The Wind
04. Moonlight In Vermont
05. In Between The Heartaches
06. If Ever I Would Leave You
07. The Shadow Of Your Smile
08. Midnight Samba
09. Infinidad
10. Little Rio
11. My Own True Love
12. Tara's Theme
13. Communications '72
14. Charade
15. Happy Little Sunbeam (Remastered 2004)
16. Once
17. The Look Of Love
18. A New Town Is A Blue Town
19. Sleeping Bee
20. Darling Joe
21. In Times Like These
22. The Windows Of The World
23. Stella By Starlight
24. How Deep Is The Ocean
25. Doralice
26. WNEW (Theme Song)
27. Love
28. Mania De Maria
29. Reflections
30. I Hadn't Anyone Till You
31. Vivo Sonhando
32. Tribute To Stan
33. Lover Come Back To Me
34. Alfie
35. Hymn Of The Orient
36. You Turned The Tables On Me
37. Nature Boy
38. What The World Needs Now Is Love
39. Time On My Hands
40. All The Things You Are (Remastered 2004)
41. Entre Amigos
42. I Want To Live
43. Round Midnight
44. Trains And Boats And Planes
45. Balanco No Samba
46. Where Flamingos Fly
47. Down By The Sycamore Tree
48. One Alone
49. The Way You Look Tonight
50. Flight
51. Body And Soul
52. The Shining Sea
53. Penthouse Serenade
54. Thanks For The Memory
55. Zigeuner Song
56. 'Tis Autumn
57. I Remember Clifford
58. Jazz Samba (So Danco Samba)
59. One Note Samba
60. Didn't We
61. These Foolish Things (Remind Me Of You)
62. Walk On By
63. I Didn't Know What Time It Was
One of the all-time great tenor saxophonists, Stan Getz was known as "The Sound." He possessed one of the most beautiful tones in all of jazz, and was among the greatest of melodic improvisers. His main early influence was Lester Young, but he grew to influence generations of players himself and never stopped evolving as a musician. Getz was an extraordinary improviser who created a distinctive sound and vocabulary. Getz's solos managed to meld lush romanticism with jazz's sense of physical toughness. He preferred ballads and medium-tempo tunes, though he was equally gifted at performing uptempo numbers. His emotional solos communicated directly and simply, revealing a canny yet innate logic. Getz recorded over 150 albums during his lifetime, and several are considered jazz classics: Stan Getz Plays in 1955, Focus from 1961 with arranger and composer Eddie Sauter, and Jazz Samba from 1962 with guitarist Charlie Byrd, which brought Brazil's bossa nova to American shores. In 1964, the groundbreaking Getz/Gilberto album won several Grammy awards while the single "The Girl from Ipanema" crossed over to pop radio and became a worldwide hit. During the late '60s and the '70s, his playing became more athletic: Sweet Rain in 1967, Change of Scenes with the Clarke-Boland Big Band in 1971, and Captain Marvel in 1974 offered excellent examples of his bona fides in progressive jazz and fusion. Getz's final album, People Time, was a live double-length duo set with pianist Kenny Barron. Issued shortly after his death from liver cancer in 1992, it is a distillation of all of his gifts.