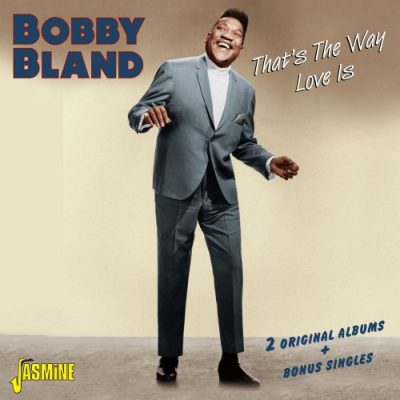 Artist: Bobby Bland
Album: That's the Way Love Is
Label: Jasmine Records
Year Of Release: 2015
Format: FLAC (tracks)
Tracklist:
01. Two Steps from the Blues
02. Cry, Cry, Cry
03. I'm Not Ashamed
04. Don't Cry No More
05. Lead Me On
06. I Pity the Fool
07. I've Just Got to Forget You
08. Little Boy Blue
09. St. James Infirmary
10. I'll Take Care of You
11. Don't Want No Woman
12. I've Been Wrong so Long
13. 36-22-36
14. You're the One (That I Adore)
15. Turn on Your Lovelight
16. Who Will the Next Fool Be
17. You're Worth It All
18. Blues in the Night
19. Your Friends
20. Ain't That Loving You
21. Jelly, Jelly, Jelly
22. Twistin' up the Road
23. Stormy Monday Blues
24. How Does a Cheating Woman Feel (Bonus Track)
25. Blue Moon (Bonus Track)
26. Yield Not to Temptation (Bonus Track)
27. That's the Way Love Is (Bonus Track)
28. Call on Me (Bonus Track)
Following on from the success of Jasmine's first volume (It's My Life Baby) comes this superb new collection consisting of two albums that were hot property during Britain's Mod movement during the 1960s. Along with 'Two Steps From The Blues' and 'Here's The Man!!!', there are 5 bonus tracks which include Bobby's biggest pop hit, the double sided "Call On Me" / "That's The Way Love Is". With the ability to glide his incredible voice from croon to scream in seconds, Bobby Bland was the epitome of the modern blues singer second only to the great B.B. King. This is a must have for any fans of early R&B and blues music.