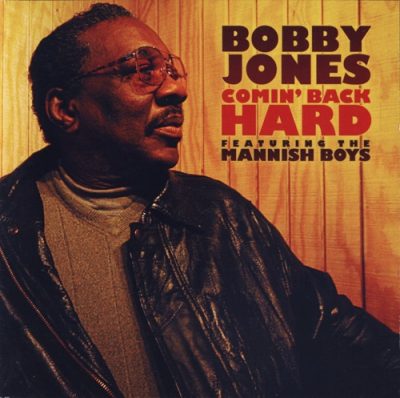 Artist: Bobby Jones & The Mannish Boys
Album: Comin' Back Hard
Label: Delta Groove Music
Year Of Release: 2009
Format: FLAC (image+.cue)
Tracklist:
01. She's The One (3:54)
02. Two Headed Woman (3:21)
03. I Must Be Crazy (2:46)
04. Come In Out Of The Rain (4:25)
05. Get It Over Baby (2:33)
06. I Don't Know (3:29)
07. Tired Of Your Jive (4:00)
08. Cry For Me Baby (4:20)
09. Three Handed Woman (3:07)
10. Mystery Train (5:28)
11. How Long Will It Last (4:17)
Since singing with the legendary group the Aces, Louisiana native Bobby Jones has since been a virtual unknown nationally up until 2007, though he's been fairly active in his second home of Chicago. When he was "discovered" languishing in obscurity by Leon Blue and the Delta Grooves label, they finally offered him an opportunity to record. It's a good thing that everyone gets to hear what a fine, skilled, and strong vocalist he is. The richness of his solid, soul-sending voice is, in many ways, beyond compare, both in a retro and contemporary vein. Frankly, there are few singers who can match what he is putting down on this, his way-overdue debut as a leader. Backed by the rising star blues band the Mannish Boys and accompanied by a treasure trove of all-stars, Jones slashes his way through a set of blues classics, current-day funky tunes, two originals from bandmembers, and two from Ike Turner. Classic tracks include Junior Parker's rocker "Mystery Train" with vocalist Finis Tasby and harmonica by Randy Chortkoff on the side, the lesser-known Hank Ballard sub-hit "She's the One," and Johnnie Pate's great swing shuffle "Tired of Your Jive" done in the tough and disgusted B.B. King tradition. George Allen wrote "I Don't Know," while Jones slows the pace alongside the boogie piano of Fred Kaplan, and takes Mel London's "Cry for Me Baby" out for an upbeat spin, extolling his virtues. Jones is so superlative and commanding here, he carries all of these songs no matter the backup group of soloists, but he really shines on Willie Dixon's "Two Headed Woman," a shuffle with the twangy guitar of the Mannish Boys' Paris Slim, and tears up the swinger "Three Handed Woman" (right-handed, left-handed, and underhanded) with help from harmonica player Lynwood Slim and a keen eye for what goes down on the sly. Kid Ramos plays excellent lead guitar on five tracks, and Junior Watson joins in on two more. This is a great party album, easily apropo for your next get together, as it was for all of the great blues musicians who convened for the love of Bobby Jones, to create a treasure finally uncovered, shined up, and proudly placed on display.