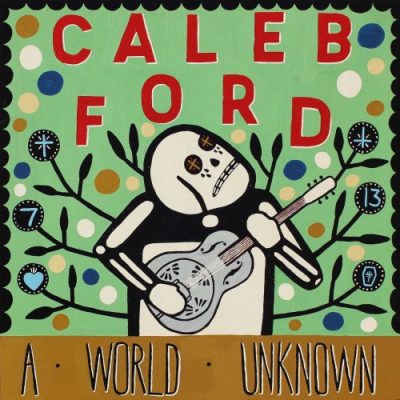 Artist: Caleb Ford
Album: A World Unknown
Label: Sound Shop Records
Year Of Release: 2017
Format: FLAC (tracks)
Tracklist:
01. Down the Dirt Road Blues
02. Tomorrow Night
03. Rag Mama Rag
04. Feels Like Rain
05. Some of These Days
06. Falling Down Blues
07. It Hurts Me Too
08. She's Gone
09. I've Got to Ramble On
10. Step It Up and Go
11. Shake Your Money Maker
12. Rollin' and Tumblin'
13. Sweet Roseanne
Caleb Ford brings a truly unique voice to the world stage. His music combines roots rock, blues, soul, americana, and influences as far afield as the Caribbean and West Africa. He grew up in Detroit, and has traveled the world, from Kingston to Beijing, New York to Paris, making music and growing as an artist along the way. Currently residing in Oakland, CA, his music reflects his travels and life experiences.
Caleb has recorded, performed, and collaborated with such musical luminaries as Buddy Miles, Lucky Dube, Luciano, Motor City Josh, Eddie Kirkland, Chino Swingslide, Noel "Noni" Alphonso, Computer Paul, Sugar Minott, Tony Curtis, Tiger, Johnny P, members of the Skatalites, Andy Bassford, Val Douglas, Kevin Batchelor, Clark Gayton, and many others.
His newest record is set for release in Fall of 2017 and promises to be his most mature and slickly-produced work to date. The album was produced by blues legend Motor City Josh at Sound Shop Studios in Detroit, Michigan. He will embark on an international tour in support of the new album.
Gear: Caleb plays several models of Fender Telecasters including his old trusty 1983 MIJ '72 Thinline Reissue, a MIJ '52 Reissue, and a custom Tim-ocaster (hand built by Tim Fowell). He also plays a Gretsch 6120EC (Eddie Cochran model), a 1952 Kay Thin Twin, and a 1964 Harmony Meteor. His acoustics include a 1930s Supertone, and a custom built Mule Resophonic tricone steel resonator guitar. He mainly plays Fender amplifiers, including a Blues Jr., Blues Deluxe, and Super Reverb, as well as a 1961 Silvertone 1482 combo amp.