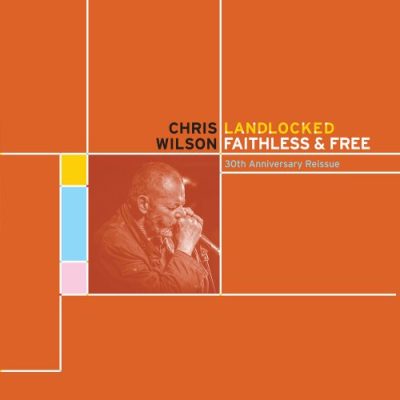 Artist: Chris Wilson
Album: Landlocked, Faithless & Free (30th Anniversary Reissue)
Label: Cheersquad Records & Tapes
Year Of Release: 2022
Format: FLAC (tracks)
Tracklist:
CD 1:
01. The Big One (3:33)
02. Alimony Blues (2:55)
03. Big Mouth Baby (3:58)
04. Wolves (5:26)
05. Rose Tattoo (4:30)
06. Hard Land (3:48)
07. Wreckage (4:32)
08. World Keeps Moving Sideways (5:12)
09. Tits and Feathers (3:51)
10. Mask (2:24)
11. My Little Pony (4:56)
12. Landlocked (4:28)
CD 2:
01. When the Levee Breaks / Burning Hell (Live) (7:19)
02. Wreckage (Live) (4:17)
03. Born Under a Bad Sign (Live) (5:57)
04. Thank You (Falettinme Be Mice Elf Agin) / Shotgun (Live) (8:09)
05. Summertime (7:58)
06. Bye Bye Blackbird (4:48)
07. Ghost Ships (3:50)
08. Ain't No Sunshine (3:48)
Cheersquad Records & Tapes are stoked to present Chris Wilson's Landlocked, Faithless & Free, a very special 30th Anniversary Reissue that sees Chris Wilson's original 1992 album Landlocked released on vinyl for the first time and expanded to a double LP/double CD, with the inclusion of tracks from the associated CD EPs The Big One and Alimony Blues.
Landlocked was Chris Wilson's first solo album, and it saw Wilson nominated for two ARIA Awards – for Best Male Artist and Breakthrough Artist, Album – and acclaimed by Rolling Stone as a "major talent". It followed his releases with the Crown of Thorns and Pub Dogs (see Cheersquad's 2022 reissue of the Pub Dogs' Scatter's Liver), and preceded the classic live album Live at The Continental (which belatedly made the ARIA Top 20 album charts when reissued by Cheersquad in 2020).
Landlocked was co-produced by Wilson, engineer Doug Roberts and guitarist Shane O'Mara, who is also known for his work with Paul Kelly amongst many others, including new Cheersquad signing, The Silversound. The rhythm section comprised Chris' faithful sideman Chris 'Dodgy' Rogers on bass and erstwhile Paul Kelly drummer Peter Luscombe. Jen Anderson (Black Sorrows, Weddings Parties Anything) guested on violin, Evil Graham Lee (Triffids) on pedal steel and Rebecca Barnard (Rebecca's Empire etc) on vocals. The magnificent double CD has 20 tracks.