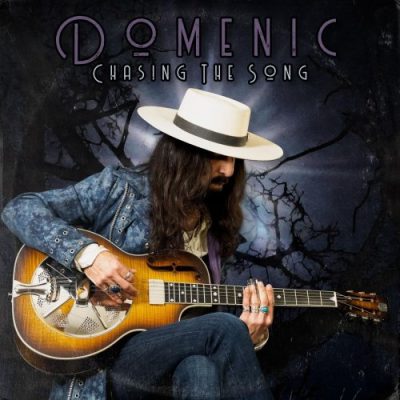 Artist: Domenic Fusca
Album: Chasing the Song
Label: Vault Records LLC
Year Of Release: 2022
Format: FLAC (tracks)
Tracklist:
01. Talkin' 67
02. Eyes Too Young Story Too Old
03. Mrs. Brown (Revisited)
04. Finding the Reel
"I'm always chasing the song. Finding truth within the words and music. This EP is a glimpse into the journey of sounds and inspirations that helped create the songs. Initially starting off with vocals, resonator, & acoustic guitars … the songs started to build into a new experience with the addition of other instruments and musicians. Recorded by Anthony "Rocky" Lamonde and mixed by Bob McCutcheon (The Vault Recording/The Vault Records). I'm very proud of this new release. I look forward to hitting the road & performing it live in the clubs for all of you. Keep chasing the song my brothers and sisters … Music is the Healer!". Domenic Fusca
Foot stompin', roots rockin', and slide slingin' singer-songwriter Domenic Fusca left his hometown of Pittsburgh, Pennsylvania 20 years ago in hot pursuit of that elusive Delta sound. He ended up finding salvation in the French Quarter in New Orleans, gigging 5-7 nights a week. Fueled by tequila and cigarettes, and just enough money to pay the bills, he carved out a niche life he loved, but like many musicians during the pandemic, lost it all when the clubs closed down.
When work in Crescent City dried up, Domenic moved back home to Pittsburgh. There, he found the rock scene welcomed him back with open arms. Former bandmates and musicians he hadn't seen in 20-30 years rallied around him like a hometown hero, helping him record his latest EP, 'Chasing The Song', which will be preceded by the single, Finding the Reel. In making the 4-song release, Domenic realized the swamp boogie he had been hunting down for decades could be found right in Steel Town.
"I made a joke recently that it took me coming back to Pittsburgh to get the sound I chased by going down to New Orleans," Domenic says with a good natured-laugh. "This EP is the music I've been always hearing in my head, and it's a glimpse into the sound and feel I will be exploring more on future releases".
'Chasing The Song' is lo-fi, boozy and bloozy rock n' roll—the sound of a man stomping his foot, singing his heart out, and sliding around the fretboard, etching out Delta blues melodies. It's a roots music aesthetic that flows freely from Domenic. "Some people meditate, I just play this music and it makes me feel a whole lot better", Domenic shares. Domenic previously issued three albums of rootsy rock n' roll crafted from the bedrock ingredients of Americana, blues, country, folk, and rock n' roll. His work is evocative of his journey and experiences of finding his true voice in New Orleans—a place he had visited one weekend but felt a lifeline connection to, and the countless gigs at local bars and clubs he performed at. Domenic's music has been featured on soundtracks to films such as The King of New Orleans, Rockabilly Zombie Weekend, and Salt Dreams.
The last person Domenic saw when he split for NOLA 20-plus years ago was bassist/producer Anthony "Rocky" Lamonde (Borstal Boys). Besides Domenic's parents, Rocky was the first person he saw when he came back home. The two started back right where they left off, and Rocky asked Domenic if he had any tunes. Initially, these were only going to be demos, however, a week later Rocky told Domenic he was going to be his record producer, and the twosome cut the tracks with members of Rocky's band Borstal Boys backing Domenic up. In stepped Bob McCutcheon, main man for The Vault Records/The Vault Recordings, and signed Domenic to The Vault Records. "It goes to show you that even through the hardest of times music is the healer", Domenic says of the signing.