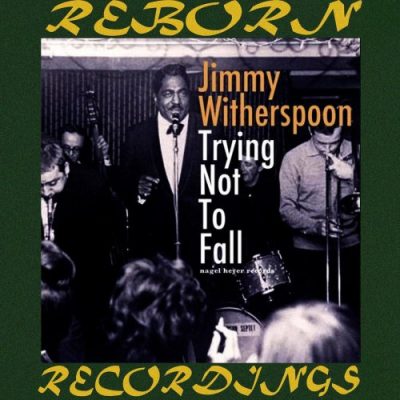 Artist: Jimmy Witherspoon
Album: Trying Not to Fall
Label: Reborn recordings
Year Of Release: 2019
Format: FLAC (tracks)
Tracklist:
01. Gee Baby Ain't I Good to You
02. Nobody Knows You When You're Down and Out
03. Goin' to Chicago
04. Ain't Nobody's Business If I Do
05. C. C. Rider
06. What a Wonderful World
07. Sweet Lotus Blossom
08. Big Boss Man
09. Some of My Best Friends
10. Trouble in Mind
11. Kansas City
12. Walking on a Tightrope
13. I'm Knocking out Your Teeth Tonite
14. You Got Me Runnin'
15. Danger Zone Is Everywhere
16. Walkin' by Myself
17. Don't You Miss Your Baby
One of the great blues singers of the post-World War II period, Jimmy Witherspoon was also versatile enough to fit comfortably into the jazz world. Witherspoon was born on August 8, 1920, in Gurdon, AR. As a child, he sang in a church choir, and made his debut recordings with Jay McShann for Philo and Mercury in 1945 and 1946. His own first recordings, using McShann's band, resulted in a number one R&B hit in 1949 with "Ain't Nobody's Business, Pts. 1 & 2" on Supreme Records. Live performances of "No Rollin' Blues" and "Big Fine Girl" provided 'Spoon with two more hits in 1950.
The mid-'50s were a lean time, with his style of shouting blues temporarily out of fashion; singles were tried for Federal, Chess, Atco, Vee Jay, and others, with little success. Jimmy Witherspoon at the Monterey Jazz Festival (HiFi Jazz) from 1959 lifted him back into the limelight. Partnerships with Ben Webster or Groove Holmes were recorded, and he toured Europe in 1961 with Buck Clayton, performing overseas many more times in the decades to follow; some memorable music resulted, but Witherspoon's best 1960s album is Evening Blues (Prestige), which features T-Bone Walker on guitar and Clifford Scott on saxophone. As the '70s began, Witherspoon decided to take a short break from live performances, settled in Los Angeles, took a job as a disc jockey, and continued making records. In 1971 Witherspoon teamed up with former Animals vocalist Eric Burdon for the album Guilty. Unfortunately it sold poorly. By 1973 his short retirement from live performances was over. Witherspoon was ready to get back on the road and assembled an amazing band featuring a young Robben Ford on lead guitar. Those live shows had received positive reviews, rejuvenating Witherspoon's move toward a definite rock/soul sound. He traveled to London in 1974 to record Love Is a Five Letter Word with British blues producer Mike Vernon. Vernon had produced critically acclaimed British blues albums by John Mayall, Fleetwood Mac, and Ten Years After. By the early '80s, Witherspoon was diagnosed with throat cancer. Although he remained active and was a popular concert attraction, the effect of the disease on his vocals was obvious. Witherspoon passed away on September 18, 1997, at the age of 77.