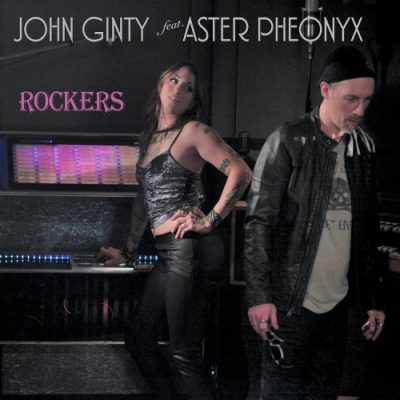 Artist: John Ginty feat. Aster Pheonyx
Album: Rockers
Label: American Showplace Music, Inc.
Year Of Release: 2017
Format: FLAC (tracks)
Tracklist:
01. The Shark
02. Lucky 13
03. Believe in Smoke
04. Target on the Ground
05. Captain Hook
06. Mountains Have My Name
07. Mr. Blues
08. Wkya Radio [Skit]
09. Priscilla
10. Electric
11. Maybe If You Catch Me
12. Rockers
Back in 2011, a widely-respected rock instrumentalist made an album with a female vocalist with powerful pipes and it did much to bring her the notice she deserved. Blues-rock axe ace Joe Bonamassa's don't Explain album that co-headlined soul-blues belter Beth Hart catapulted Hart to the upper tier of blues-rock singers, and rightfully so because, as we wrote then, she "is in total command on this one even as she's surrounded by more established artists."
I bring this up because I wonder if the same fateful career turn awaits Aster Pheonyx, who graces her own muscular vox over most of John Ginty's new disc, Rockers.
Ginty, as readers to this space might recall, got a really, really good reception on the last album he made, No Filter, one of my favorite roots rocks records of 2015, and is already back again with Rockers, on sale February 17, 2017 by American Showplace Music. Ginty can do a lot of things very well: piano, Rhodes and you best believe Hammond B3 but singing isn't one of those things, so he brought in a parade of guest vocalists to help out on the non-instrumental tracks on No Filter. This time, the lead mic belongs exclusively to Pheonyx.
The genesis for this collaboration can be traced back to a show Ginty and his band performed recently at Asbury Park, where the local opening act that night was the New Jersey singer/songwriter Pheonyx. Conversation and backstage jamming turned into an invitation to sing in Ginty's band and ultimately, on Ginty's next record. She even co-wrote almost all the songs with Ginty.
The title for this record is truth in advertising because these songs do rock, led not by guitar but Ginty's commanding keyboards. The opening and closing numbers "The Shark" and "Rockers" are the only ones that involve no vocals; the former is a strong album launcher due to a fonky, fuzzy bass line from Justine Gardner and Ginty's monstrous B3. For the latter, Ginty manages to make it sound oh so close to a heavy metal guitar, like Jon Lord amped up.
So Ginty needs no foil, but he thrives with one all the same. Pheonyx instantly proves her mettle on the raucous soul-rocker "Lucky 13" (video above) underlined by Ginty's swift runs on the organ during solo time. On a song where a contestant from The Voice might go pedal to the metal and scream all the way through, Pheonyx modulates herself like an old pro, getting the sentiment across with the right amount of simmering soul. Similarly, "Electric" is powered by a strut that won't be denied and Phoenix delivers attitude in spades. And when the music slows down a tad to mid-tempo as it does for "Target On The Ground" and "Captain Hook" Pheonyx turns up the soulfulness a notch and displays real nuance in her delivery.
Ginty moves over to piano on the gospel styled "Mountains Have My Name," where Pheonyx really shines with a singing voice that's not too distant to Susan Tedeschi's, while "Mr. Blues" isn't really blues but it does rock with a dollop of guitars to go with Ginty's imposing B3 and a funky breakdown in the middle.
"Priscilla" is almost as soft as it gets for Ginty and Pheonyx but drummer Maurice "mOe" Watson comes up with a swaying backbeat even for this one and this is the right occasion for Ginty to pull out his melodica for a quick solo or two. "Maybe If You Catch Me" downshifts even further: a smoky, sultry tune that's just too earnestly fervent to dissolve into torch singer jazz.
Just as Robert Randolph, The Dixie Chicks and Carlos Santana know a good keyboardist when they hear one, the keyboardist John Ginty likewise has an ear for spotting singing talent. Even better, it's a singing talent that's a good match for his keyboard talent because both rock with a lot of soul, and the songwriting partnership is already paying off dividends. Rockers could be the beginning of a beautiful musical relationship.