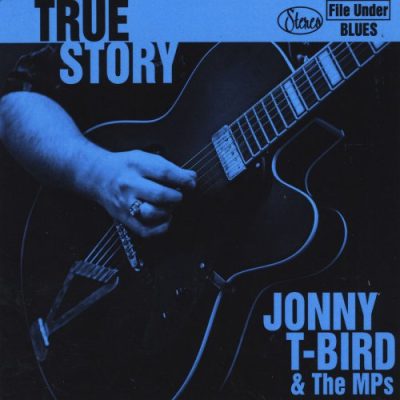 Artist: Jonny T-Bird & the MPs
Album: True Story
Year Of Release: 2016
Format: FLAC (tracks)
Tracklist:
01. Iceberg
02. Undercover Lover
03. We Got It
04. Born in Milwaukee (Est. 1989)
05. Storybook Blues
06. Mississippi County Farm Blues
07. Come & Gone
08. Best Friend Worst Enemy
09. She's the Toast of the Town
10. Misunderstandings
11. Hibernate Like the Bears
Milwaukee's Jonny T-Bird is quite a refreshing and inventive blues-based guitarist. His "singing"?…Not so much. For lack of a better description his singing style is of the talk-sing goofy school with a dash of punk attitude. The thing is the guy is a top notch guitarist. The musicians are first rate along with the sharp production. The song writing leans to the mundane side.
If only the entire CD was comprised of well done instrumentals such as the lead off track "Iceberg". It's a nicely jump blues with Jonny's guitar at times taking the tone of Yardbirds era Jeff Beck. Shades of "Jeff's Boogie". Just about everyone takes a brief solo. His voice is actually well suited to the syncopated beat of "Undercover Lover". Top notch guitar playing here as throughout the entire CD. Lively as all get out.
Queeny McCarter duets with Jonny on "We Got It" that benefits from a nicely done guitar riff. The back and forth lines seem to mask some of the roughness of Jonny's vocal.
Jonny relates some of his life story in true punk-new wave, talk-singing fashion in "Born In Milwaukee(Est. 1989)". Did I say this guy can really play some guitar? "Big Dad" Robert Keelan provides some nice harmonica here and elsewhere in the recording. "Big Dad" keeps the "singing" to the usual standards, while his harp and Jonny's slide guitar remind us why we came. Keshena Armon contributes some piano that should be up more in the mix. Son House's "Mississippi County Farm Blues" gets an energetic treatment along with a slightly distorted vocal. It also includes some Bo Diddley-ish guitar.
Jonny closes out "Best Friend Worst Enemy" with some wicked cool wah-wah guitar. He brings out his slide talents once again on "She's The Toast Of the Town". The slow paced "Misunderstandings" is…uh…slow…plus it has some soulful guitar goodness. "Hibernate Like The Bears" is one of the more bluesy songs. Jonny plays guitar in tandem with his own harmonica playing.
Jonny's singing is rougher than an out house corn cob on chili night. Did I say this guy is one hell of a guitar player?
BY GREG "BLUESDOG" SZALONY