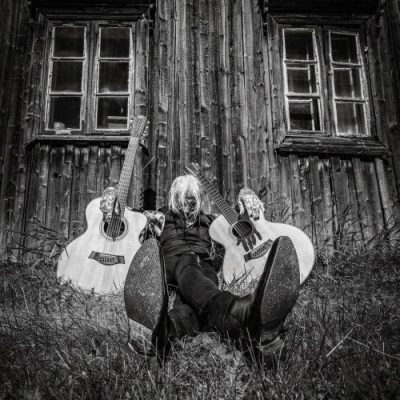 Artist: Ledfoot
Album: Coffin Nails
Label: TBC Records
Year Of Release: 2022
Format: FLAC (tracks)
Tracklist:
01. Perdition
02. Coffin Nails
03. I've Never Been
04. Better Than Bad
05. The Day I Died
06. House of Restitution
07. Escape
08. Runnin' till I'm Done
09. Look What I've Done to Me
10. How I End My Day
Ledfoot (Tim Scott McConnell) recently won the Norwegian Grammy for his album 'White Crow'. He has developed his own playing style using a 12-string guitar with extra thick strings, steel picks and brass slide, often accompanied by stomp-box. In addition to four albums as Ledfoot, he has released several solo albums under his full name, played in The Havalinas, been covered by Bruce Springsteen.
'Fuxsake, what a great ride this album is… …Somewhere John Lee Hooker is smiling and stampin' his foot to 'Runnin' Till I'm Done'! Love the 12 string riffing so much – You just don't hear that enough these days – Brings to mind Stevie Ray on killing it on acoustic. Ledfoot on the Goodfoot got some serious mojo'. – Winter Lazerus, mastering master This record was recorded and mixed in two days – live – straight to tape… no edits, no punching in…just me… honest for better or worse – honesty – What a precious thing ' – Ledfoot – In short: 10 tracks recorded analogue live to tape during two magic days at Studio Studio Nyhagen. No bullshit, just a unique artist spitting out his soul in the most naked and real setting possible. Gothic blues! Still, the sound, the lyrics and the performance are very much a product of today. Ledfoot aka Tim Scott McConnell is a 12-string guitarist who plays with fitted heavy strings, a brass slide, steel fingerpicks and a stompbox. He has been touring and releasing music since the late 1970's and written for artists as varied as Highasakite and TnT to Sheena Easton. In 2014, Bruce Springsteen recorded 'High Hopes' as the title track of his album, written by Tim Scott McConnell for the Havalinas debut album in 1990. It debuted as #1 in over 10 countries including the U.S. and the U.K.