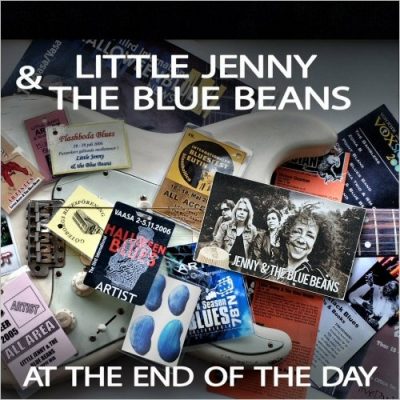 Artist: Little Jenny & The Blue Beans
Album: At The End Of The Day (Live)
Year Of Release: 2022
Format: FLAC (tracks)
Tracklist:
1. Lily Sue (3:15)
2. Move My Wings (5:32)
3. Here And Gone (4:31)
4. Blue Bean Boogie (5:30)
5. The Reason Why (5:46)
6. What You Have Done To Me (2:58)
7. Surgery Blues (4:52)
8. Never Coming Back (3:00)
9. Peacock Man (4:31)
10. First Time (4:38)
11. Nothing Can Stop You Now (3:48)
12. Led Blues (5:08)
13. Ocean Waves (3:50)
Personnel:
Little Jenny – Vocals, Harmonica and Guitar
Mia Kempff – Bass and Vocals
Lotta Partapuoli – Guitar
Justina Lakin – Drums
This album was recorded on tour in 2009, little more than a year before leadsinger and bandleader Jenny Bohman left us.
It was a dark weekend in mid-November 2010 as the Swedish blues singer and muli-talented musician Jenny Bohman died from cancer, only 47 years old. A sad day for both music lovers and all of us whose lives are enriched by Jenny's heat and warm personality. Jenny was a true musician. She belonged to the lustful kind of music that had played in whatever age she had been born – and whether there was money to be or not. Maybe she did not become rich from music, but she was certainly rich in music.
Little Jenny & the Blue Beans were a sultry Blues Rock act from Scandinavian. The band was first formed in 1997 and since then their career had seen them feature at many of the major European festivals including: Belgium RnB Fesitval, Peer; Copenhagen Blues Festival, Denmark; Åmåls Bluesfestival, Sweden and the Lahti Blues Festival, Finland. They also regularly toured in France as well as Scandinavia and had recently begun to break through in the United Kingdom.
They were four experienced, skilful positive funny and dynamic ladies that just loved to improvise and surprise you on their musical jorney. Little Jenny herself had been the recipient of two of the top Swedish blues awards: the Jan Rosenqvist award in 1998 and the Amal blues festival award in 2001.
She is now considered to be one of Sweden's greatest blues harmonica players. Little Jenny has a fine blues pedigree having toured and recorded with the likes of Eric Bibb between 1990 and up till today, and had toured Germany dozens of times with Monaco Blues Band..
Other career highlights include her performing at the Mustique Blues Festival with the English blues diva Dana Gillespie. Alongside Little Jenny, all the band members have years of experience backing a large number of Sweden's most famous artists and enjoy endorsements from some of Scandinavia's top industry players.
The Blue Beans had also a strong desire to spread the world of blues to the younger generation. They were regularly making school concerts and workshops for adolescents. Combining concerts with workshops was also an option for those interested.
So what could you expect from a Little Jenny and the Blue Beans gig? They played a suggestive bluesrock mix. Harmonica and guitar duels were commonly interspersed with refreshing drum solos when least expected. 90% of the songs are originals and their philosophy was that they are best experienced LIVE – the connection between the audience and the band being the most essential element in their playing.