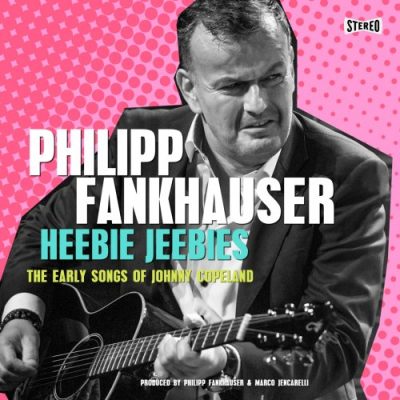 Artist: Philipp Fankhauser
Album: Heebie Jeebies – The Early Songs of Johnny Copeland
Label: Funk House Blues Productions
Year Of Release: 2022
Format: FLAC (tracks)
Tracklist:
1. Heebie Jeebies (2:39)
2. Just One More Time (2:48)
3. Something's up Your Sleeve (2:06)
4. Love Prayer (3:40)
5. Every Dog's Got His Day (4:18)
6. Hurt Hurt Hurt (2:46)
7. May the Best Man Win (2:34)
8. Coming to See About You (2:34)
9. It's My Own Tears (3:44)
10. Well a Well a Baby (2:07)
11. I've Gotta Go Home (2:57)
12. It Must Be Love (2:55)
13. I Need You Now (3:10)
Personnel:
Philipp Fankhauser, vocals, guitar
Marco Jencarelli, guitar
Hendrix Ackle, piano, organ
Richard Spooner, drums
Andrew Tolman, bass
Daniel Durrer, saxophone
Lesley Bogaert, backing vocals
Lucky Wüthrich, backing vocals
You could always expect one or two surprises from Philipp Fankhauser. On the last album "Let Life Flow" in December 2019, these included a dialect song by Hanery Amman and a tribute sung in Italian to the great cantautore Lucio Dalla.
Soul Blues Country Rock & Roll Pop Love Songs On his seventeenth album "Heebie Jeebies", which can best be translated as "goosebumps", he now presents thirteen songs by his fatherly friend and mentor, the Texan singer and guitarist Johnny Copeland, who died in 1997. That wouldn't be very surprising in itself, because Copeland's songs have always been present on practically all of Fankhauser's albums and have accompanied him his whole blues life. But now Philipp goes way back to the sixties, to a time when the blues was displaced by the hip and modern sound of soul. A time when Philipp was born in 1964 in Thun on Lake Thun.
Kind of all new? Not really. Just happier, more danceable, with a cool groove and positive vibes. Is that still blues? Yes, basically, but hipper and somehow quite contemporary. Every single song on the album is a pearl, played by some of the best musicians who play the blues in Switzerland and far beyond its borders.