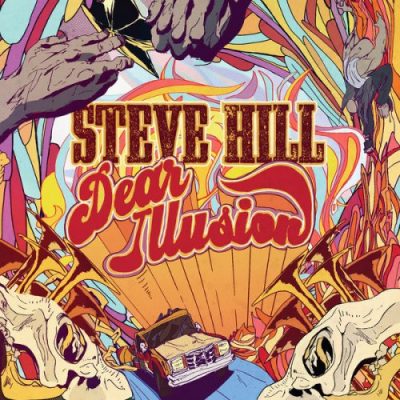 Artist: Steve Hill
Album: Dear Illusion
Year Of Release: 2022
Format: FLAC (tracks)
Tracklist:
01. All About The Love
02. Keep It Together
03. Everything You Got
04. Dear Illusion
05. Steal The Light From You
06. Don't Let The Truth Get In The Way (Of A Good Story)
07. Follow Your Heart
08. So It Goes
09. She Gives Lessons In Blues
10. Until The Next Time
For an artist celebrating twenty-five years in the industry, it may seem odd to say aloud that his latest album is probably the best he has ever released, but for the supremely talented Steve Hill, it's true! 'Dear Illusion' is an example of how Blues and Rock should sound; there's enough lament in the lyrics and sound to please the Blues brigade, combined with a strong Rock current that will appeal to the rest, and if you dig both styles, rejoice: you are in for a treat!
A "one-man band" for a decade, Hill has partnered with Wayne Proctor, who is a seven times UK Blues Award Drummer of the Year. Are they a match made in heaven? Yes, definitely; the beats from Proctor and Hill are superb throughout the ten tracks, and this union allows Hill to concentrate on other areas, and as a result, it sounds so good!
The opening track 'All About The Love' starts us off and gets the tempo going upward. You think you know the direction the song is heading when boom, it has a classic misdirect as gospel sounds cut in and a majestic horn section gets the feet tapping along – you won't be able to help yourself! 'Keep It Together' brings a trusty old Harmonica into play before the guitar takes over, and another delightful serving is in front of you. The trio of opening songs is completed by 'Everything You Got', and it's one of the standout tracks. Leaning more towards the Rock side, the opening horns draw you in, and then you are held prisoner by Hill's guitar playing, which is radiant in every aspect and sounds so damn smooth throughout.
I'm very picky when it comes to Blues/Rock unions, having heard many terrible combinations. This album is not one of them! The songs are great and take you on a journey, which is what you want with the Blues, especially on 'Dear Illusion' and 'So It Goes'. When it goes into Rock mode, 'Don't Let The Truth Get In The Way (Of A Great Story)' is up there with the best I've heard this year!
Hill, quite rightly, is regarded as a multi-generational and genre talent. His craftsmanship, both musically and his song-writing, is second to none. This album is another leap forward and should bring even more praise his way, and that is definitely not an illusion!
by Pete Arnett