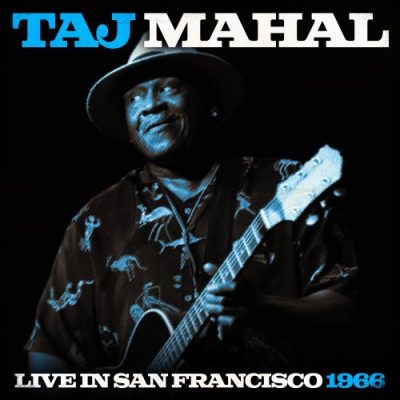 Artist: Taj Mahal
Album: Live In San Francisco 1966
Label: Westmill
Year Of Release: 2016
Format: FLAC (tracks)
Tracklist:
01. Ulysses S. Gregory
02. Tom & Sally Drake
03. Carribbean Rhapsody Part. 1
04. Carribbean Rhapsody Part. 2
05. Rolling Wheel Blues
06. Freight Train Blues
07. Stagger Lee
08. Sweet Mama Red
09. Jumpin Blues
10. Hesitation Blues
In September 2014, some 50 years after moving to Los Angeles to form the band Rising Sons with fellow blues musician Ry Cooder and Jessie Lee Kincaid, Taj Mahal hightailed it to Nashville to receive an honor he called "one of the most powerful and wonderful things that could ever happen in my life." Celebrating decades of recording and touring that have nearly singlehandedly reshaped the definition and scope of the blues via the infusion of exotic sounds from the Caribbean, Africa and South Pacific, the two-time Grammy winning singer, songwriter, film composer, guitarist and multi-instrumentalist was feted with the Lifetime Achievement for Performance Award at the 13th Annual Americana Honors and Awards.
"I've been performing for over 50 years, and to be recognized for the road I've traveled means the world to me, says Mahal, who during the show performed "Statesboro Blues" – which he first recorded on his eponymous 1968 debut album – on dobro with a band that included Cooder and Don Was. "I could not have done this without the audience that has been so supportive of me throughout my musical journey. It was a fantastic night and I was thrilled to be there and celebrated among such other outstanding American musical treasures like Jackson Browne and Flaco Jimenez, whose music and talent I am a fan of. It certainly represented a diversity of musical styles and culture. That's what I'm talking about!"
The night at the legendary Ryman Auditorium capped another extraordinary year for Mahal, which began with a performance at the Gregg Allman Tribute Concert in Atlanta and included playing on the entire Blind Boys of Alabama Christmas album; performing as part of the Bonnaroo Superjam on a bill featuring Derek Trucks with Chaka Khan, Eric Krasno from Soulive, renowned R&B/blues session drummer James Gadson, David Hidalgo from Los Lobos and Susan Tedeschi; and playing and recording with Van Morrison in Dublin.