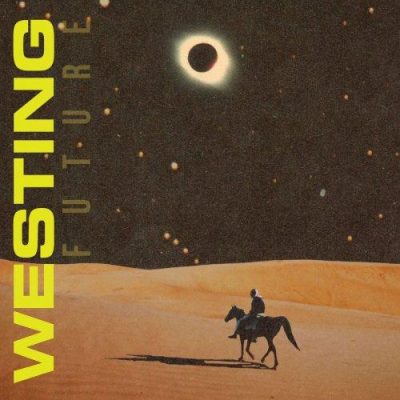 Artist: Westing
Album: Future
Genre: Psychedelic Blues Rock, Stoner Rock
Label: RidingEasy Records
Year Of Release: 2023
Format: FLAC (tracks)
Tracklist:
Back In The Twenties (3:52)
Nothing New (6:08)
Lost Riders Intro (2:12)
Lost Riders (5:17)
Big Trouble (In The City Of Love) (3:42)
Artemisia Coming Down (6:01)
Silent Shout (3:31)
Stanley Wu (4:33)
Coming Back To Me (4:43)
The band Slow Season had been on my radar for years, so when hearing they had changed their name to Westing (named after Slow Season's most recent album 2016s Westing), added All Them Witches guitarist Ben McLeod and were about to drop their debut Future, I took this opportunity to finally jump in and see what these California '70s revivalists were all about.
One thing they are most certainly all about is 'getting the Led out' as Future is one of the most heavily Led Zeppelin-influenced records I've ever heard. Westing not only seem to have tapped into Zeppelin, and to be fair, assorted other 'classic' rock bands of the late '60s and early '70s, DNA, but they have deftly captured both Zeppelin's tone and energy throughout Future's nine tracks.
The tone and flow on opener Back In The Twenties instantly conjure up the '70s behemoth's vibe, as both guitarists, McLeod, and vocalist, guitarist and keyboardist Daniel Story Rice offer up some perfect Zep-tone, circa Physical Graffiti, as McLeod's Page-like shred compliments drummer/engineer Cody Tarbell's Bohnam-esque thwack, and thud. Rice, while sounding nothing like Robert Plant, at least here, is a more than capable singer in his own right, and his biting lyrics on Back In The Twenties more than speak to the times we are all mutually enduring.
Nothing New presents some killer fuzzed-out riffery, before the band soars into a mid-tempo, blues-rock stomp. Once again, Tarbell's drumming evokes the stylings of John Bonham, as his groove, and thump really anchor Westing's sound. Things get trippy with Lost Riders Intro, again evoking Zeppelin, as in the intro to No Quarter, before Lost Riders unfolds into a full-on Houses Of The Holy style romp, complete with all sorts of guitar histrionics, Tarbell's ever-present thwack, while Rice's vocal approach is both melodic and soaring.
Just when you thought things couldn't get any more Zeppelin-esque, Big Trouble (In The City Of Love) instantly comes off as a homage, if not a direct bite of Zeppelin's Custard Pie. From McLeod and Rice's riffs and lead work invoking Page, to Tarbell's completely Bonham-style drumming, bassist Hayden Doyle's nimble playing to even Rice going for a full-on Plant wail in places, Big Trouble (In The City Of Love) is one of the most Zeppelin-style songs I've encountered in all my years of listening to rock and roll. In fact, I spun both Houses Of The Holy and Physical Graffiti to make sure I wasn't overstating the comparisons, but no, Westing have captured Zeppelin's mid-period sound like lightning in a bottle.
Future isn't all Zep-worship, all the time, as Westing dip a bit into Pink Floyd's early '70s vortex but as if it was written and recorded in the California desert with Artemisia Coming Down, a slow-burn, trippy and psychedelic song, with a bit of a western vibe, featuring many movements, and some wicked lead-shred from McLeod. The Pink Floyd influence continues on Silent Shout featuring some Animals style acoustic guitar, that's accentuated by Floydian effects throughout. We're back to the rock on the penultimate track Stanley Wu that's a rocking, Zeppelin-style, blues stomper, complete with slide-guitar action that serves as a nice sonic palette cleanser after the Floydian trippiness that occupies the mid-section of Future.
The closing number, Coming Back to Me, however, is a shuffling desert blues riffer that, while eliciting early '70s rock vibes, is also its own entity, meaning that I cannot call this completely Led Zeppelin-influenced as I can with so much of Future. I find it interesting that so much of what we know as 'stoner rock' or 'desert rock' over the last two-plus decades can be traced directly to bands like Black Sabbath, The Stooges, Blur Cheer and Hawkwind. And while Led Zeppelin's influence can be heard throughout the genre, it's been my experience that not many bands are as directly influenced by them, as say Sabbath.
Well, Westing, throws that idea right out the window, as again, to my ears, this band captures not only Zeppelin's sound, but their mid-period energy as well as any band I've encountered. Additionally, Westing shows throughout Future, that they are excellent songwriters, as all the material throughout the nine tracks is well-written, well-performed, and well-recorded.
I don't mean to make Future, and Westing in general, out to be mere Zeppelin-clones, they are completely their own band, but I've yet to hear anyone capture the Zep energy and vibe as deftly as they have and my curiosity has been quipped enough to seek out Slow Season's back catalog. This is excellent, '70s style hard rock, performed by musicians who obviously know what they're doing. A great album.
by Martin Williams