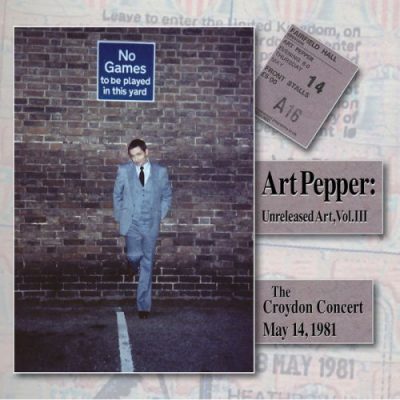 Artist: Art Pepper
Album: Unreleased Art, Vol. III: The Croydon Concert, May 14, 1981
Label: Omnivore Recordings
Year Of Release: 2022
Format: FLAC (tracks)
Tracklist:
1. Blues For Blanche (12:41)
2. Talk: Band Intro (4:34)
3. Ophelia (11:37)
4. Mambo De La Pinta (14:50)
5. Patricia (19:42)
6. Cherokee (12:57)
7. Goodbye (12:00)
8. Yours Is My Heart Alone (9:40)
9. Dedicated (9:46)
10. Make A List (Make A Wish) (20:52)
The third in the series of releases from Widow's Taste Music . Previously only available online, now coming to retail worldwide . Packaging contains photos and liner notes from Art's widow, Laurie Pepper Art Pepper is one of the jazz world's best know saxophonists. He played and recorded extensively throughout his four-decade career, until his passing in 1982. Luckily, during his later years, the tapes were rolling during live shows, and he and his wife, Laurie, cataloged many of those shows. After his death, Laurie picked exquisite performances, and made them available to his fans. Now, those releases see a worldwide retail release. Unreleased Art Vol. III: The Croydon Concert, May 14, 1981 features a set from Art, pianist Milcho Leviev, bassist Bob Magnusson, and drummer Carl Burnett, recorded at Fairfield Hall in London. The 2-CD and Digital set includes standards like Roy Noble's "Cherokee" and "Gordon Jenkins' "Goodbye" (recorded by Frank Sinatra, Ella Fitzgerald, Julie London, Linda Ronstadt, and the closing theme for the Benny Goodman Orchestra), plus Pepper originals "Blues For Blanche," Ophelia," and more. Packaging contains photos and an essay from Laurie Pepper, outlining the songs, the band, the stories, and the magic that was and is Art Pepper. Finally available worldwide on CD and Digital, Unreleased Art Vol. III: The Croydon Concert, May 14, 1981 continues the journey of opening the ears of the world to the magic of Art Pepper live.