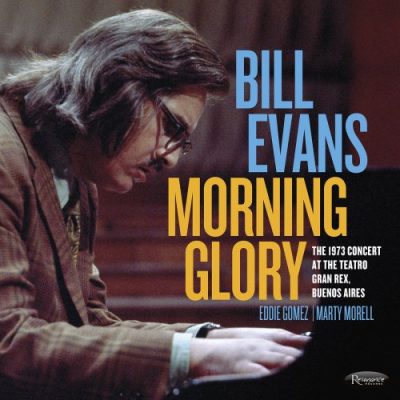 Artist: Bill Evans
Album: Morning Glory: The 1973 Concert at the Teatro Gran Rex, Buenos Aires
Label: Resonance Records
Year Of Release: 2022
Format: FLAC (tracks)
Tracklist:
1. Re: Person I Knew (5:04)
2. Emily (6:53)
3. Who Can I Turn To? (7:59)
4. The Two Lonely People (7:38)
5. What Are You Doing the Rest of Your Life (5:12)
6. My Romance (9:05)
7. Morning Glory (4:34)
8. Up With the Lark (6:50)
9. T.T.T. (Twelve Tone Tune) (6:20)
10. Esta tarde vi llover (6:17)
11. Beautiful Love (13:35)
12. Waltz for Debby (7:58)
13. My Foolish Heart (4:36)
Morning Glory: The 1973 Concert at the Teatro Gran Rex, Buenos Aires is the first official release of pianist Bill Evans with Eddie Gomez and Marty Morell captured live at the Teatro Gran Rex in Buenos Aires, Argentina on June 24, 1973.
Remastered from the original concert tape reels and in cooperation with the Bill Evans Estate, this deluxe 2-CD set includes an extensive booklet with rare photos from the actual concert; essays by American author/journalist Marc Myers and Argentine author Claudio Parisi (who wrote the book Grandes del jazz internacional en Argentina (1956-1979)); plus new interviews with Eddie Gomez, Marty Morell and pianist Richie Beirach. This concert recording is available officially for the very first time and is the companion piece to the Resonance Release, Inner Spirit: The 1979 Concert at the Teatro General San Martín Concert, Buenos Aires with Marc Johnson and Joe LaBarbera.