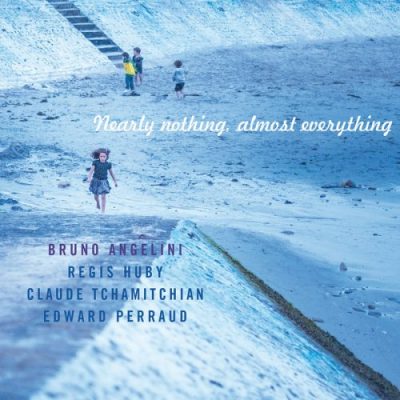 Artist: Bruno Angelini
Album: Nearly nothing, almost everything
Label: La Buissonne Studios
Year Of Release: 2022
Format: FLAC (tracks)
Tracklist:
1. Soul wanderings (07:05)
2. Peaceful warrior (07:47)
3. Present time (07:13)
4. Paterson, Pt. 1 (05:57)
5. Paterson, Pt. 2 (05:04)
6. Paterson, Pt. 3 (05:12)
7. Wild wanderings (07:20)
8. At dawn (06:10)
Personnel:
Bruno Angelini – Piano, compositions
Régis Huby – Violins, electronics
Claude Tchamitchian – Double bass
Edward Perraud – Drums, percussions
A musical journey inspired by minimalist poets from around the world.
" Poetry has been with me for a long time. I am more and more sensitive to minimalist poetry : airy, often anchored in the present, rather allusive than metaphysical ; a mirror directed towards our daily life, as well as towards the nature which surrounds us, in order to help us become aware of their beauty.
These poems also invite me to cultivate my inner world, rather than seeking furtive happiness through consumption, or gesticulation. By extrapolation, I feel they are also aligned with my civic thoughts : savoring, caring for nature ; rethinking our needs and engaging in a process of degrowth, in order to preserve the earth and share equitably with those in most need.
It is for all these reasons that I have decided to dedicate my next musical creation to poets from all over the world such as Ada Mondès, William Carlos Williams, Chandak Chattarji, Lydia Vadkerti-Gavornikova, Jacob Nibénegesabe.
My compositions will not fit necessarily into 'musical minimalism', except that I like space, silences, favor listening to timbres and resonances, writing sometimes refined melodies. They will be mainly oriented towards a harmonic language derived from contemporary music, sometimes associated with rubato movements, sometimes with more complex rhythmic signatures, favoring the mixture of different speeds, played simultaneously by the members of the orchestra.
I feel like the music I write has been constantly changing and evolving for years, in directions I couldn't have anticipated ; topics that affect me as well. The orchestra that I formed in 2014 with Claude Tchamitchian, Régis Huby, Edward Perraud, accompanies these developments as if this quartet were the ideal extension of the expression of my artistic intimacy. Therefore I am calling on them for a third opus so that they invest in this project, the subject of which is very close to their sensitivity as well as their commitments as citizens." (Bruno Angelini)
This project is really part of the continuation of the two previous albums of this quartet, released under the same Label, both in its quality of writing and in the interpretation. Time and space stretch to give the necessary weight to each note, each pulsation. The silences are rich, nourished and thought. A music so powerful and so refined at the same time makes this music an exception.