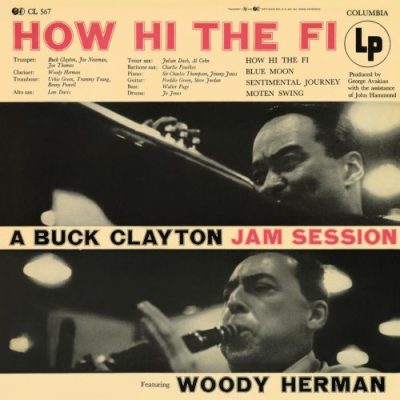 Artist: Buck Clayton feat. Woody Herman
Album: How Hi The Fi (Expanded Edition)
Label: Columbia/Legacy
Year Of Release: 1954/2022
Format: FLAC (tracks)
Tracklist:
01. How Hi The Fi
02. Blue Moon
03. Sentimental Journey
04. Moten Swing
05. How Hi The Fi (Alternate Take
The first of the famous Buck Clayton jam sessions, the exciting music on this long out-of-print LP has been reissued as part of a Mosaic box set. Two songs ("Sentimental Journey" and "Moten Swing") are from a December 1953 session in which the trumpeter/leader is teamed with trumpeter Joe Newman, trombonists Urbie Green and Benny Powell, altoist Lem Davis, Julian Dash on tenor, baritonist Charlie Fowlkes, pianist Sir Charles Thompson, guitarist Freddie Green, bassist Walter Page and drummer Jo Jones. However it is "How Hi the Fi" (cut along with "Blue Moon" on March 31, 1954) that is most memorable. Buck and fellow trumpeter Joe Thomas, trombonists Urbie Green and Trummy Young, clarinetist Woody Herman, Davis and Dash, Al Cohn on second tenor, pianist Jimmy Jones, guitarist Steve Jordan, bassist Walter Page and drummer Jo Jones are all in inspired form. The most memorable soloists are the rambunctious Trummy Young, the harmonically advanced chordings of Jimmy Jones and an exuberant Woody Herman who was rarely heard in this type of jam session setting. With Clayton having worked out some ensemble riffs for the horns beforehand and plenty of space left for spontaneity, this music has plenty of magic.