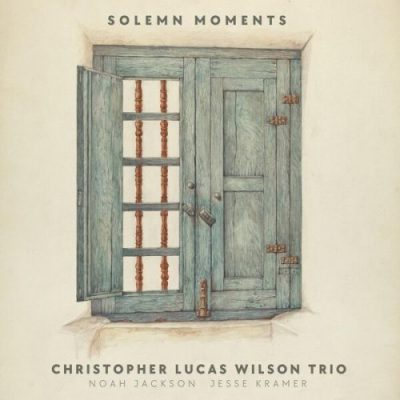 Artist: Christopher Lucas Wilson Trio
Album: Solemn Moments
Label: Casa De Jazz Records
Year Of Release: 2023
Format: FLAC (tracks)
Tracklist:
1. Solemn Moments (06:27)
2. We See (04:20)
3. Misnomer (05:30)
4. Una Pa' Rosita (06:47)
5. A Familiar Feeling (Benny's Beat) (05:19)
6. Manhã de Carnaval (05:12)
7. La Media Vuelta (03:10)
8. Nocturne in Eb Major (05:43)
Personnel:
Christopher Lucas Wilson: piano;
Noah Jackson: bass, acoustic;
Jesse Kramer: drums.
Pianist Christopher Lucas Wilson demonstrates his sophisticated style and vibrant sense of swing on his third release as a leader, the delightful Solemn Moments. Informed by the turmoil of the pandemic, the intimate set was recorded in Wilson's hometown of Detroit. Evenly split between covers and originals, the album boasts both thematic cohesiveness and engaging variation.
On the title track, Wilson's chiming chords, drummer Jesse Kramer's dark rustle and bassist Noah Jackson's reverberating strings build a wistful mood. Wilson infuses the ambience with effervescence as he embellishes the melody with elegant flourishes. A brighter, yet still bittersweet, sound permeates the group play as the tune evolves. Jackson solos with eloquence and lyricism before the charming conclusion.
Brazilian guitarist Luiz Bonfa's classic "Manha De Carnaval" is reimagined with a heavy dose of the blues. Wilson's improvisation simmers with indigo hues as it meanders away from the standard's native roots yet maintains its spirit. The exchange among the three artists is seamless and fluid.
"Misnomer" is a tense and thrilling piece. After the trio sets an expectant atmosphere, Jackson takes off with a breathtakingly lithe extemporization that serves as a launching pad for Wilson's solo. Wilson transforms the theme with quotes from standards and jagged, crystalline phrases. This thoroughly absorbing performance closes with Kramer's energetic polyrhythms.
Another intriguing arrangement is that of Frederic Chopin's "Nocturne In Eb Major." Wilson and bandmates give it an ebullient treatment, keeping its romanticism and underscoring it with subtle whimsy. Wilson demonstrates his virtuosity and poetic sensibility as his cascading lines deconstruct the composition with creativity and deference. Kramer's thunderous beats propel the music with aplomb. The ensemble, with captivating synergy, brings on the energetic conclusion.
With Solemn Moments, Wilson demonstrates that he is as much an accomplished a composer as he is an accomplished pianist. What is most remarkable about this record is the way he leads the trio as a single, organic entity. Of course, this is also thanks to his bandmates' shared artistic vision. An enjoyable, accessible and life affirming album, Solemn Moments will be released in January 2023.
Review By Hrayr Attarian