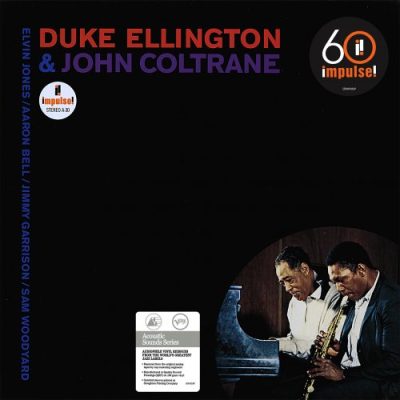 Artist: Duke Ellington & John Coltrane
Album: Duke Ellington & John Coltrane
Label: Impulse!/Verve
Year Of Release: 1962/2022
Format: FLAC (tracks)
Tracklist:
01. In a Sentimental Mood (Mills-Ellington-Kurtz) – 4:18
02. Take the Coltrane (Ellington) – 4:45
03. Big Nick (Coltrane) – 4:30
04. Stevie (Ellington) – 4:23
05. My Little Brown Book (Strayhorn) – 5:25
06. Angelica (Ellington) – 6:04
07. The Feeling of Jazz (Ellington-Troup-Simon) – 5:33
The classic 1962 album Duke Ellington & John Coltrane introduces the rising jazz saxophone innovator performing with the long-established piano institution Duke Ellington.
"Perhaps looking to renew his inspiration or maybe simply wanting to broaden his horizons, Duke Ellington began a string of collaborations in the second half of his career — whereas before that, his own band was stimulus enough. Whatever the reason, almost all of his collaborations succeeded at high levels, although none of his shared sessions are more intriguing on the surface than this 1962 date with the preeminent sax star of the day.
"In reality, the record amounts to 'Coltrane Plays Ellington' (plus one Coltrane original) because the tenor man is the whole show — and what a show it is. Only Coltrane could be as 'fiercely tender,' and there's no better forum for his sensitive side than the music of Ellington and Billy Strayhorn, who contributes the album's true vertex, 'My Little Brown Book.' The rhythm section alternates between Duke's and Trane's, each adding a different texture to the proceedings. Ellington is wise enough to appreciate the nature of the session, and he is quite content to feed chords in service of the young master–proving the old master's open mind and good taste. Hearing Coltrane seize 'In a Sentimental Mood' is thanks enough." — Marc Greilsamer
At a gathering of Ellington band alumni organized by Jazz at Lincoln Center, bassist John Lamb recalled the sessions for Duke Ellington & John Coltrane: "There was no music on that whole date. Nobody had a chart. We came in and we were standing there, waiting to see what would happen. 'Trane would go and sit on the piano bench with Duke. They didn't talk, but Duke would be singing … and 'Trane would go … Then, after they did that for a few minutes, they got up. 'Trane would go to his microphone, Duke would start playing, and the rhythm section, we had to do for ourselves, you know. That's it. He didn't even tell you the key. He could communicate without words, and 'Trane could hear it." On "Take the Coltrane," the two play in a quartet of Coltrane's bandmates of the day, bassist Jimmy Garrison and drummer Elvin Jones (Ellington men Lamb and drummer Sam Woodyard also played on the album).
JazzIz Magazine