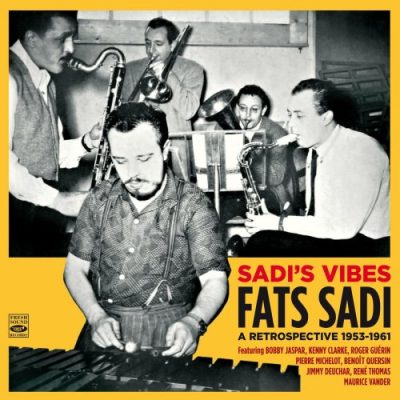 Artist: Fats Sadi
Album: Sadi's Vibes – A Retrospective 1953-1961
Label: Fresh Sound Records
Year Of Release: 2022
Format: FLAC (tracks)
Tracklist:
01. Strike up the Band (G.& I.Gershwin) 3:15
02. I Only Have Eyes for You (Warren-Dubin) 2:39
03. Struttin' with Some Barbecue (Lili Hardin Armstrong) 3:31
04. Ad Libitum (Francy Boland) 3:18
05. Laguna Leap (Edward Laguna) 3:05
06. Karin (Jose Bartel) 3:36
07. Big Balcony (Bobby Jaspar) 3:31
08. Sadisme (Francy Boland) 2:29
09. Sweet Feeling (Pierre Michelot) 3:32
10. Ridin' High (Cole Porter) 3:19
11. Thanks a Million (Johnston-Kahn) 3:16
12. Early Wake (Fats Sadi) 3:46
13. Honky Tonky (Bobby Jaspar) 2:58
14. Jeux de Quartes (Bobby Jaspar) 2:35
15. Doxology (Memory of Dick) (Bobby Jaspar) 2:32
16. Le JAMF (Bobby Jaspar) 4:11
17. Ridin' In (Sadi-Coppieters) 2:45
18. Don't Blame Me (McHugh-Fields) 3:08
19. Gigi's Pad (Sadi-Coppieters) 2:50
20. If I Had You (Shapiro-Campbell-Connelly) 2:56
21. Hegor (Fats Sadi) 4:42
22. Dear Old Lady (Fats Sadi) 5:12
23. Hittin' the Road (Fats Sadi) 3:49
The Belgian Fats Sadi (1927-2009), due to his technique and modern approach, was the quintessential European vibraphonist of the 50s. In his beginnings, his style was indebted to Lionel Hampton, but as he assimilated the irresistible and evolving influence of Milt Jackson, his music became a true reflection of himself, generous and overflowing with swing.
Upon his arrival in Paris in 1951, Sadi had a hard time finding gigs as a jazzman. There were too many musicians chasing too few jobs and at first he had to work in all kinds of orchestras. From 1953 he joined forces with Bobby Jaspar and grew musically, playing and recording alongside him as a sideman and as a leader while surrounded by the best musicians on the Parisian scene. In 1954, he put together an eight-piece combo that recorded an album of wellcrafted arrangements firmly rooted in the West Coast sound performed with a precision rarely heard in mainland jazz groups at the time.
As the years passed, Sadi continued to develop his style and conception, establishing himself as an impressive and forceful soloist who was capable of sustaining the mood of the tunes with depth and freshness in both wailers and ballads. In the late 50s and early 60s, he was working and recording in Germany and Belgium and he was chosen to integrate the European All-Stars of 1961. On the bonus track 'Hittin' the Road,' Sadi blows along with another of his compatriots, the great guitarist René Thomas, who unleashes a memorable solo in a particularly graphic aural definition of swing.
In this retrospective we can hear Sadi playing in very different and exciting settings with a fierce flow of ideas and dedication. All in all, this set is an impressive showcase for an almost forgotten and often underrated vibes player.
Jordi Pujol