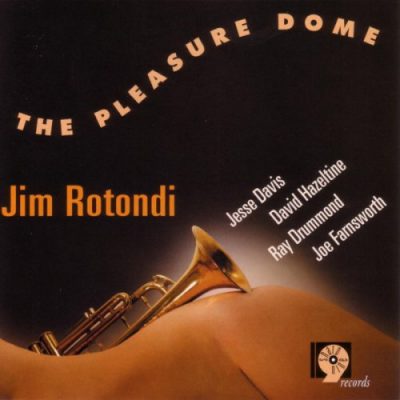 Artist: Jim Rotondi
Album: The Pleasure Dome
Label: Sharp Nine Records
Year Of Release: 2004
Format: FLAC (tracks)
Tracklist:
1. On y Va (Let's Go) (05:45)
2. The Breeze and I (07:59)
3. The Pleasure Dome (07:27)
4. My Ideal (06:58)
5. A Bientot (09:35)
6. Yours Is My Heart Alone (06:41)
7. Mamacita (05:45)
8. Hush (08:12)
Personnel:
Trumpet, Flugelhorn – Jim Rotondi
Alto Saxophone – Jesse Davis
Piano – David Hazeltine
Bass – Ray Drummond
Drums – Joe Farnsworth
There's a lot to like about this session led by Jim Rotondi. This superb trumpeter, flügelhornist, and arranger is joined by a first-rate rhythm section (pianist David Hazeltine, bassist Ray Drummond, and drummer Joe Farnsworth), as well as the talented yet under-appreciated alto saxophonist Jesse Davis on five of the eight tracks.
The program itself is well balanced, with great blowing, imaginative charts
and a pair of strong originals. Rotondi's cooking "On Y Va (Let's Go)" is a brilliant opener, setting up a solid groove. "The Pleasure Dome" is his salute to the tiny but popular New York nightclub Smoke; it captures the excitement of a typical evening in this uptown venue.
"The Breeze and I" first turned up on a 1940 big band date led by Jimmy Dorsey and was later adapted by a few bop and hard bop small groups; but Hazeltine's updated treatment swings like mad in a post-bop setting while retaining its Latin undercurrent. The leader switches to flügelhorn for a lush rendition of the standard "My Ideal" accompanied solely by the pianist, with Drummond and Farnsworth making a late entrance. Rotondi is heard on muted trumpet for a lightly swinging "Yours Is My Heart Alone," accented by Farnsworth's brushes.
Dr. Billy Taylor's "A Bientot" is cast as a bossa nova with terrific interplay between the flügelhorn and alto sax. Joe Henderson's "Mamacita" is tense blues with the rhythm section fueling Rotondi's solo with some especially tight playing. Dr. Donald Byrd's sassy "Hush" will get any audience swaying back and forth, also showcasing a tasty solo by Drummond. It is a rare recording session that consistently reaches the heights of this outstanding CD.
by Ken Dryden