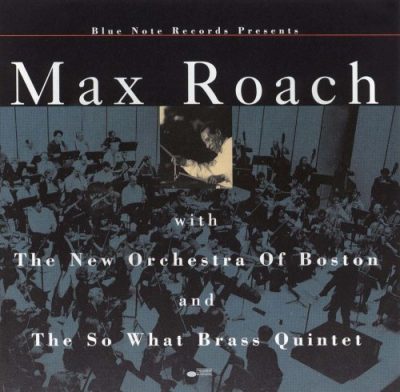 Artist: Max Roach
Album: Max Roach with The New Orchestra of Boston and The So What Brass Quintet
Label: Blue Note
Year Of Release: 1996
Format: FLAC (tracks+.cue)
Tracklist:
01. Festival Journey – 50:51:
-Movement I: Outbursts, Thunder, Clouds, and Mists
-Movement II: Bells, Drones, and Spiritual Fantasy
-Movement III: Strutting (Tillis)
02. Ghost Dance (Roach) – 12:13
Max Roach has long been one of the most adventurous and stimulating improvisers in music. For this unusual CD, the drummer is featured on the 50-minute "Festival Journey," an episodic and sometimes dramatic piece by Fred Tillis that falls closer to the realm of Western classical music than to jazz. Roach is the only soloist and he frequently interacts with the orchestra, but after repeated listenings no real revelations occur. The music is interesting but not too memorable. Roach's 12-minute "Ghost Dance," performed by a brass quintet along with the leader, is more colorful. Steve Turre takes a fine trombone solo and, although also a little classical-oriented, the theme sticks more in one's mind and the ensembles have their exciting moments. But overall this CD is recommended mostly to Max Roach completists.