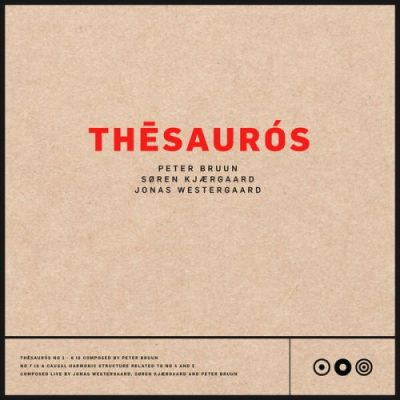 Artist: Peter Bruun, Søren Kjærgaard & Jonas Westergaard
Album: Thēsaurós
Label: ILK Music
Year Of Release: 2023
Format: FLAC (tracks)
Tracklist:
01. THĒSAURÓS NO 6 [17/18]: EPITOME
02. THĒSAURÓS NO 3 [12/13]: DHĒ
03. THĒSAURÓS NO 5 [17/18]: TAXIS
04. THĒSAURÓS NO 2 [12/11]: KINESIS
05. THĒSAURÓS NO 4 [12/13]: TREASURE
06. THĒSAURÓS NO 1 [12/11]: CHEST
07. THĒSAURÓS NO 7: CAUSAL STRUCTURES
Personnel:
– Peter Bruun: Drums
– Søren Kjærgaard: Piano
– Jonas Westergaard: Bass
THĒSAURÓS is an ambitious work for piano trio by the Danish drummer Peter Bruun. The trio has matured over 25 years and has been immersed in this material for four years. The result is a spirited take on a classical constellation that points partly back into history and partly directly into the future.
Søren Kjærgaard, Jonas Westergaard and Peter Bruun have for several years been pioneering voices on the European music scene in modern jazz, improvised music and contemporary composition. The trio is a collective symbiotic entity that immerses itself in the tension between complex stringent structures and improvisation.
THĒSAURÓS is a work that appeals to the listener through the highest common denominator. Peter Bruun's extensive compositions place great demands on the trio. Both in complexity and scope, and most importantly, through new fundamental perspectives on metric understandings, form and musical strategies for improvisation. Likewise, THĒSAURÓS demands a lot from the listener who, in return, will be rewarded with a comprehensive and coherent work.