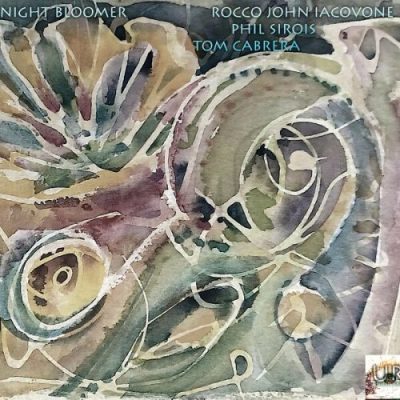 Artist: Rocco John Iacovone
Album: Night Bloomer
Label: Unseen Rain Records
Year Of Release: 2022
Format: FLAC (tracks)
Tracklist:
01. Circuits
02. Freedom Theme
03. The 4:45
04. The Dance
05. Moonflower
06. Inside Out (Take One)
07. Inside Out (Take Two)
Night-bloomers are flowers that blossom in the dark. Like other night bloomers, the Moonflower uses creatures of the night to help it pollinate. Dealing with the darkness, these flowers have become a symbol for the growth of our spirit and personality. Especially significant when faced with challenging and difficult periods, they represent the transformation of darkness into Light.
The Trio began working on this project at just about the time Russia invaded Ukraine, prices began rising, talk of recession started, mass shootings were becoming more frequent, climate started its own rules, and we began year 3 of the Covid Pandemic.
The tracks follow a certain logic, some of which are apparent like Circuits (we are all connected), and Freedom Theme. The 4:45 has to do with an imaginary train ride. Metaphorically, when we want to get rid of a negative feeling or person, we can put them on "the 4:45" for parts unknown. The Dance (of life), references the moon, always a symbol of hope, as a reminder that our difficulties are cyclical, and will change. The penultimate cut is a nod to knowing how to blossom in the dark, like The Moonflower, which is a Symbol of Blossoming in Dark Times
We close with Inside Out which we probably have all felt at this point.
The goal of this album is to uplift, encourage, and like the moonflower, prevail over the dark of our times with beauty and Light. – Rocco John Iacovone