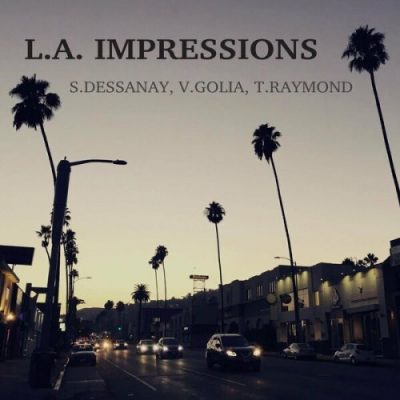 Artist: Sebastiano Dessanay
Album: L.A. Impressions
Year Of Release: 2023
Format: FLAC (tracks)
Tracklist:
01. Impression N.1: Sun Light
02. Impression N.2: The Buzz of Art
03. Impression N.3: Putter and VR
04. Impression N.4: Ocean Waves
05. Impression N.5: Topanga Duo
06. Impression N.6: The Joshua Trees
07. Impression N.7: Griffith Park
08. Impression N.8: John and Gerald
09. Impression N.9: Night Lights
In 2018, I met Tina Raymond at the Nora Jazz Festival in Sardinia. Her inventive and powerful drumming, together with the fascination for Los Angeles and its art and music vibe, made me decide to go and visit. The intensity of the sunlight stroke my senses, followed by the traffic on the motorway. But louder is the noise produced by the arts, a constant buzz which animates this incredible city, day and night.
The jazz music legacy fills the air. I was lucky to meet Putter Smith, legendary bassist and actor, and his wife and vocalist VR. Playing in their house, hearing stories, and grasping musical advice was priceless. And so was my meeting with another legendary bassist, John Clayton, who invited me to attend a rehearsal of his jazz orchestra, where his talented son Gerald sat at the piano. Encounters that leave a mark and directly connect to the history of jazz.
Out and about L.A. and its surroundings, I also connected with nature and found incredible resemblance with some parts of Sardinia. The Mediterranean bush smell on the coast hit by the massive ocean waves, the long beaches, the dense vegetation crossing the Topanga canyon, the climb on the bare hills to reach the Griffith Observatory, the long drive through the Joshua Tree National Park and its incredible Yucca brevifolia and granite expanses.
Finally, I had the honour to record with two incredible musicians, Tina and Vinny, for me a new discovery in the free-improvisation world. A session was organized in Hollywood with sound engineer Tony Minasian. What you hear in this album is what we played. Tony recorded on just a stereo track with no possibility to edit or mix afterwards. The stunning sound quality and mix is the result of his skills and talent.
The night before leaving L.A. we drove to the hills behind the city, surrounded by posh villas. I watched the immense expanse of the city lights that reaches the ocean. This album and this music is dedicated to this extraordinary place.
Sebastiano Dessanay