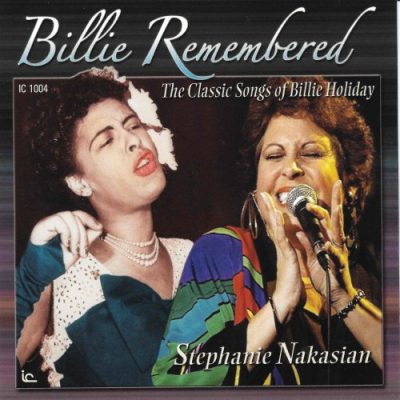 Artist: Stephanie Nakasian
Album: Billie Remembered
Label: Inner City Records
Year Of Release: 2016
Format: FLAC (tracks)
Tracklist:
01. No Regrets
02. Did I Remember'
03. What A Night, What A Moon, What A Boy
04. I Wished On The Moon
05. I Cried For You
06. These Foolish Things
07. What A Little Moonlight Can Do
08. Reaching For The Moon
09. Too Hot For Words
10. If You Were Mine
11. Miss Brown To You
Ever since she chose jazz singing over trading currency futures on Wall Street, Stephanie Nakasian has been one of the top singers in jazz, in addition to being an influential educator. Her extroverted style, influenced by both Ella Fitzgerald and bebop, is both accessible and adventurous, she is always in-tune, and she swings at every tempo. While she is not as famous as she deserves, she is well known and respected in the jazz world.
Irv Kratka, the founder of Inner City Records and Music Minus One, thought it would be a great idea if Stephanie recorded a full set of music in Billie Holiday's style. Stephanie knew right away that this would be difficult but was up for the challenge. "Billie Holiday is an advanced study. Her rhythm, which is often behind-the-beat, is not laidback and it actually has a lot of drive. She was very aware of what the rhythm was doing behind her but it did not dictate what she sand. There are few singers who can sing with the complexity of Billie Holiday.
The band on this CD is ideal. Trumpeter Randy Sandke has long shown the ability to play in most styles ranging from New Orleans and swing to modern. His concise solos and ensemble playing during these performances are full of fire and exhilarating chance taking of Berigan, Eldridge and Jones. Tenor-saxophonist Harry Allen does a fine job of sounding like early Ben Webster. Dan Block on clarinet and alto knows the early swing style very well. Rhythm guitarist Marty Grosz, bassist Neal Miner and drummer Chuck Riggs swing quietly but with intensity. Stephanie's husband Hod O'Brien, cast in the role of Teddy Wilson, had a particularly difficult task because he has his own masterful bop-oriented style, inspired by Bud Powell. After a period of time burying himself in Wilson's music, he decided that, even while paying tribute to Wilson's conception, it was important to also be himself.
The result is that the music is not a strict note-for-note recreation of the past but often sounds like an alternate take from the sessions, played by comparable musicians. While the arrangements are similar to the original recordings, there are some changes not only in the solos but in the frameworks. On first listen, one will naturally compare Stephanie Nakasian's singing to Billie Holiday's, but on repeated listenings, these new recordings have a life of their own. Stephanie does a remarkable job capturing Lady Day's spirit as well as her phrasing and strong hints of her voice. She gets it.
Billy Holiday's early music is colorblind, timeless, playful, and a great deal of fun. Stephanie Nakasian does her justice.