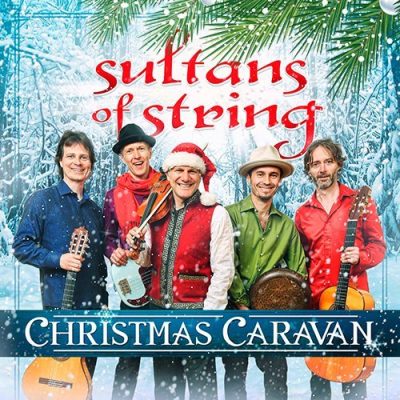 Artist: Sultans of String
Album: Christmas Caravan
Year Of Release: 2017
Format: FLAC (tracks+.cue)
Tracklist:
01. Turkish Greensleeves (feat. Gundem Yayli Grubu) (4:31)
02. Sing for Kwanzaa (feat. Richard Bona & Waleed Abdulhamid) (3:29)
03. Jesous Ahatonhia (Huron Carol) (feat. Crystal Shawanda) (4:40)
04. The Little Swallow/Al Vuelo (3:52)
05. Jesu, Joy of Man's Desiring (feat. Mary Fahl) (4:13)
06. Flight of Angels/Hark the Herald (feat. Chris McKhool & Rebecca Campbell) (4:23)
07. Little Drummer Boy (feat. Rebecca Campbell) (3:32)
08. Celebrate the Holydays (feat. Sweet Honey in the Rock) (4:01)
09. Niel Gow's Lament/Rakes of Mallow/Rouge River Valley (feat. Paddy Moloney) (5:42)
10. Jingle Bells/Auyuittuq Sunrise (feat. Chris McKhool & Rebecca Campbell) (3:09)
11. The Christmas Song (feat. Nikki Yanofsky) (3:32)
12. A Django Christmas (4:24)
13. Les anges dans nos campagnes/Cootes Paradise Reel (feat. Benoit Bourque) (3:09)
14. Happy Xmas (War Is Over) (feat. Ruben Blades & Luba Mason) (4:02)
15. Silent Night (feat. David Charrier) (4:19)
16. Himalayan Sleigh Ride (feat. Anwar Khurshid) (3:12)
17. Hallelujah (feat. Rebecca Campbell) (5:35)
18. Feliz Navidad/Come on People Sing (feat. Alex Cuba) (3:02)
It's a good thing that Christmas music has a category of its own because otherwise there would be a LOT of head-scratching about how to categorize Christmas Caravan by Sultans of String! World music would probably be the next closest match, as this album is a true tour de force of holiday music from all over the world. The majority of the tracks are Christmas music, but there is also music for Kwanzaa and a few songs of a more secular nature. Adding to the genre-defying diversification, the musical styles range from classical to pop to Middle Eastern to jazz to Latin to country, Celtic and beyond. Some of the songs are sung, some are instrumental. Some of the lyrics are English, others are French, Spanish and Duala or a combination. Many of the songs are exuberant and high-energy, but then the temperature cools and a peaceful vibe resumes, gradually reheating. The pacing of the music is excellent! Most of the eighteen songs are familiar Christmas faire, but quite a few tracks are medleys, so the true count of songs included is much higher than eighteen. After 37 years of teaching piano lessons and 20 years of reviewing albums, there aren't many Christmas songs I haven't heard. The Sultans got me with several new songs, but when I explored the liner notes, most of those songs were written by Sultan Chris McKhool (what a great name for a musician!!!).
Based in Toronto, Sultans of String was formed by Chris McKhool and Kevin Laliberte' about ten years ago and the group has had #1 hits across Canada on Top 10 national radio charts. They have received multiple awards and accolades including two JUNO Award nominations (Canada's Grammy Awards). For this album, The Sultans are McKhool on violin, viola, ChinCello and vocals; Laliberte' on guitars and vocals; Eddie Paton on guitars and vocals; Drew Birston on bass and vocals; and Rosendo "Chedy" Leon on percussion, drums and vocals. There is also a wealth of guest artists who lend their vocal and instrumental talents to the mix. It's a very big production that keeps its joy, humor, and musical sensitivity very much out front.
I am writing this review on December 22nd, and usually by this point in the holiday season, Christmas music sets my teeth on edge, but I'm really glad I decided to review just one more holiday album for this year! If you are looking for some Christmas music that is eclectic and different without being too far "out there," Christmas Caravan definitely qualifies! It is available from Amazon and iTunes. Highly recommended!