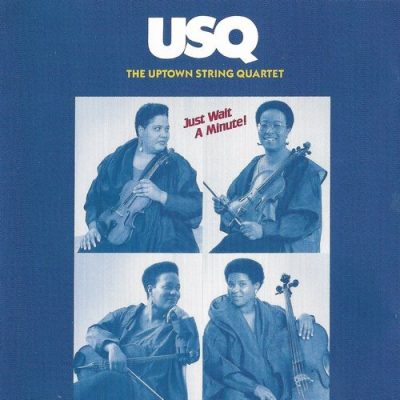 Artist: The Uptown String Quartet
Album: Just Wait a Minute!
Label: MR Max Roach, Bluemoon
Year Of Release: 1992
Format: FLAC (tracks+.cue)
Tracklist:
01. Just Wait a Minute (Folson) – 4:54
02. Along Came Betty (Golson) – 4:06
03. Moose the Mooche (Parker) – 3:59
04. Summertime (Gershwin) – 3:19
05. Sugar Shuffle (Terry) – 4:25
06. Samba Para Ustedes Dos (Bridgewater) – 4:34
07. J.J.'s Jam (Folson) – 5:16
08. Off the Wall (Monroe) – 4:03
09. Blues March (Golson) – 6:07
10. Amazing Grace (Trad.) – 4:29
11. Melodic Strains (Heath) – 5:14
12. Art Deco (Cherry) – 4:58
13. I Feel Good (Brown) – 2:17
14. Sister Harriet (Mora) – 7:12
This is a fine all-around session for the chamber jazz quartet, which consisted at the time of violinists Lesa Terry and Diane Monroe, Maxine Roach on viola, and cellist Eileen Folson. The wide range of material includes pieces by Benny Golson ("Along Came Betty" and "Blues March"), Charlie Parker, Gershwin, Jimmy Heath, Don Cherry, several group originals, and even a song by James Brown (a humorous "I Feel Good"). Along with Turtle Island, Uptown (which is active on a more part-time basis) has ranked in the 1990s at the top of its admittedly very small field of improvising string quartets. This diverse yet unified CD gives listeners a strong example of the group's music.