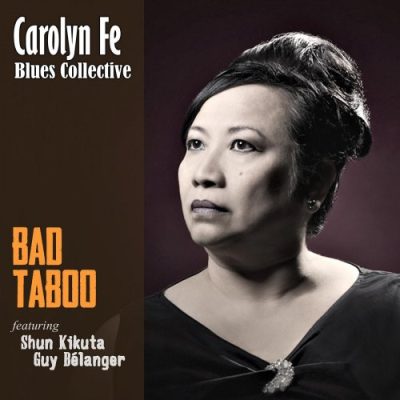 Artist: Carolyn Fe Blues Collective
Album: Bad Taboo
Year Of Release: 2014
Format: FLAC (tracks)
Tracklist:
01. All About Them
02. Kitty Cat
03. Bad Taboo (feat. Shun Kikuta)
04. Life's Just That Good (feat. Guy Bélanger)
05. Love Galore
06. Goodbye
07. Bad Thing
08. Redemption
09. Not Anymore
10. Promised
11. Watching You
12. Whole Lotsa Trouble (feat. Guy Bélanger)
13. Not Worth the Show
Carolyn Fe Blues Collective offers up the Blues in all its shades, full band or acoustic trio/duo setup. Carolyn Fe Blues Collective has the unique ability to serve it's audiences with highly charged emotions – From the sweet, purity love's first kiss to the raunchy edge of a woman scorned, all the way to the tease of languid sexiness.
Having launched their second CD entitled "Original Sin" to packed houses on two nights in 2011, this independent blues band continues to establish its presence in the Canadian Blues scene. Cashbox Canada's review claim that the band is "evolutionary with its blues fingerprint".
Their first CD entitled "100%" (released in 2009) joined the play lists of various online and on-air radio stations worldwide and continue to receive positive feedback as the songs remain alive with the addition of new tunes from their recent album.
A highly versatile, well-rounded performer, Carolyn Fe possesses the deep soul of an artist who has lived on the fringe for most of her life, and made the most of it as the true innovator she is, giving her music and lyrics an insight and depth that cannot be imitated and must be heard. She produces original material that contains lyrics with highly charged emotions that only the Blues can surrender – from extreme loss and anger to love-gone-bad or the languid sexiness of a hot summer night.
Backed by veteran musicians who've played with the likes of Percy Sledge, Fat Boy Slim and Seal, the band's delivery has phrasing that at evokes deep sensations from the begging for love, the hard-core-in-your-face of truth denied or the dreamy allure of pure seduction.