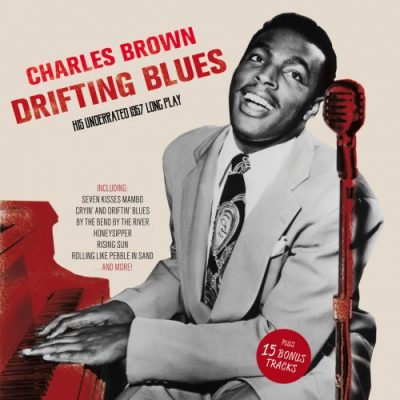 Artist: Charles Brown
Album: Drifting Blues
Label: Mojo Workin'
Year Of Release: 2021
Format: FLAC (tracks)
Tracklist:
01. Cryin' and Driftin' Blues
02. (Hot Lips and) Seven Kisses Mambo
03. Fool's Paradise
04. Please, Don't Drive Me Away
05. By the Bend of the River
06. I'm Saving My Love for You
07. Nite After Nite
08. Rising Sun
09. My Heart Is Mended
10. Rolling Like Pebble in Sand
11. Evening Shadows
12. Honeysipper
13. Merry Christmas Baby (1956 version)
14. Hard Times
15. Love's Like a River
16. I Lost Everything
17. Educated Fool
18. I Wanna Go Home
19. Black Night
20. Baby, Do You Know the Game
21. Sing My Blues Tonight
22. Please Come Home for Christmas (1960 version)
23. Trouble Blues
24. Homesick Blues
25. I'll Always Be in Love with You (1956 version)
26. In the Evening When the Sun Goes Down
27. Merry Christmas Baby (1961 version)
This lost gem was originally issued as a 12" LP in 1957 by the Aladdin subsidiary label Score, and long unavailable on any format. In addition to the original masterpiece, this remastered collector's edition contains 15 bonus tracks, consisting of hard-to-find sides issued by different labels, such as Aladdin, Ace, and King Records during the Fifties and early Sixties. Highlights include two of Brown's seasonal-themed blues songs; the celebrated "Merry Christmas Baby" and "Please Come Home for Christmas." These sensational recordings constitute a treasure of incalculable value, which would form the basis of Charles Brown's legend and secure his reputation as one of the greatest figures of piano blues.