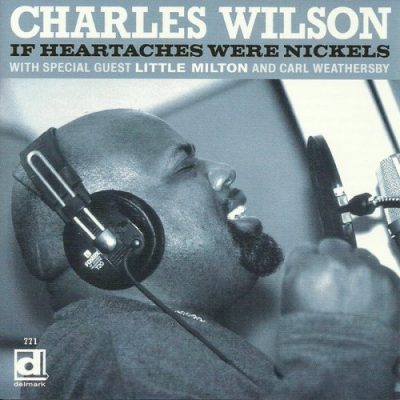 Artist: Charles Wilson
Album: If Heartaches Were Nickels
Label: Delmark Records
Year Of Release: 2004
Format: FLAC (tracks+.cue)
Tracklist:
01 – Cut You A-Loose 03:38
02 – Doctor Doctor 03:51
03 – You Belong To Me 03:49
04 – Ain't No Hoochie Coochie Man 05:00
05 – I Talk To Myself 05:14
06 – Hattie Mae's 04:29
07 – Cadillac Assembly Line 03:32
08 – Losin' Boy 03:06
09 – Up At Carl's 03:31
10 – Next Time You See Me 03:28
11 – If Heartaches Were Nickles 05:46
12 – I Like Your Style 03:37
13 – Your Love Is Real 03:22
14 – Lonely Man 02:55
15 – I Walked All Night Long 04:43
If the blues are to remain a vital presence on the world stage and continue to develop as an art form in this new century, it will not be because of the legions of generic guitar slingers who endlessly repeat the great riffs of the original masters and imitate one another endlessly in order to display the most clichéd stage show. Indeed it will because there are singers like native Chicagoan cum Mississippi Delta bluesman Charles Wilson. He has long been a fixture on the chitlin circuit and is familiar to African-American audiences across the States. Indeed, this is his 11th release on his fourth label. As good as some of those recordings were, none of them holds a candle to If Heartaches Were Nickels. Indeed it is on this side where new directions for the blues can be found; the interesting thing is that those new vistas are found in its most classic and earthy approaches. Wilson's album is a step away from the slickness of modern production and sterile overwrought performances trying to substitute acumen for soul. The 15 cuts here drip with soul. Wilson's delivery is straight from the belly and sees the heavens. If one can hear the traces of singers like Bobby "Blue" Bland, Z.Z. Hill, and Sam Cooke in his voice, one can also hear Sam Moore and Wilson Pickett. Wilson understands that soul music and the blues are two sides of the same coin, and his band, led by the great guitarist Carl Weathersby on guitar, knows that arrangement and passion, not spit and polish, are what set a record apart. The sheer immediacy of this band, with its raw, gritty, souled-out blues backing a singer whose naturally effortless croon and growl evokes joy, sorrow, and assent in listeners is a combination that translates as well in a studio as it does on a stage. Check "Cut You a-Loose," Magic Sam's "You Belong to Me," "Losin' Boy," and the sheer deep blue-black title cut for reference. Add a horn section in the right places ("Doctor Doctor," "I Talk to Myself," and "Losin' Boy") and the presence of Wilson's uncle, blues legend Little Milton, on a pair of cuts ("Hattie Mae's" and "Lonely Man"), and you have a modern-day blues record that sounds like a classic blues album and just might be regarded that way some day. Wilson is at the top of his game here on Delmark, a label that was made for records like this. He is a singular talent that holds the key to the future evolution of the soul-blues in the grain of his voice.