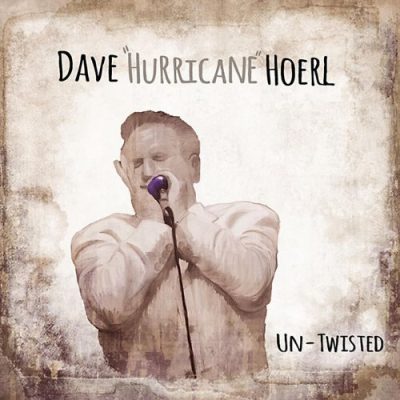 Artist: Dave Hurricane Hoerl
Album: Un-Twisted
Label: Full Swing Records
Year Of Release: 2014
Format: FLAC (tracks)
Tracklist:
01. Soul Mate
02. Pure & Simple Blues
03. I'd Rather Be Blind, Crippled and Crazy
04. Snake Charmer
05. Fight of the Century
06. Don't Think It Can't Happen to You
07. Grand Old Game
08. She Took Back Her Heart
09. Long Highway
10. A Little Off the Top
11. I Left My Heart in San Francisco
Dave Hoerl is an American who has lived and worked in Canada for over 30 years. He was a founding member of jump band The Twisters and currently fronts a band called Hurricane And The Hooligans but this is his first solo release. He is backed by some of his fellow Hooligans as well as some invited guests.
Dave handles lead vocals and harp; Dave 'Double D' Dykhuizen plays guitar on all tracks bar two where he is replaced by James 'Buddy' Rogers (a Blues Blast nominee in 2013 for New Artist debut album) and Brandon Isaak on one track each; Roger Brant plays electric bass with Keith Picot replacing him on upright bass on two cuts; Chip Hart is the drummer and Dave 'Cob' Webb keyboards on all tracks; Johnny Ferreira adds sax to two tracks.
Dave wrote all the songs bar two covers, sometimes alone, sometimes in collaboration with others. The album opens strongly with "Soul Mate", a song dedicated to his wife, Dave's harp blasting out above some fine piano, his voice light and clear so all lyrics are immediately understandable. James Rogers supplies the guitar on this one, including a nicely poised solo with a touch of 'twang'.
"Pure And Simple Blues" is a solid shuffle that does what it says on the tin: "when you're by yourself alone it cuts right to the bone, play some of that pure and simple blues". Some fine slide playing from Double D adds to the fun. The cover of OV Wright's "I'd Rather Be Blind, Crippled And Crazy" features the organ and works fine, Dave's voice being supported by some backing vocals on the choruses.
"Snake Charmer" opens with Dave's harp sounding like a North African souk as he describes the lady of the title: "She'll charm the pants off a python, she'll rattle a rattler, she'll addle an adder, she rubs me the right way, she's more than meets the eye, when she does her belly dance money starts to fly." Brandon Isaak takes over guitar duties on this one, Johnny adds a little background colour with his sax and Dave plays some nice chromatic harp. Dave is clearly a man who enjoys writing clever lyrics and does so again in "Fight Of The Century" where boxing terms are used as a metaphor for relationships.
"Don't Think It Can't Happen To You" moves along very pleasantly but the lyrics again contain some depressing tidings of woe which remind us that you can never tell when things may go wrong. "Grand Old Game" has a Johnny Otis style beat, the rhythm being a close cousin of "Willie And The Hand Jive" while the lyrics are that rarity, a blues song about baseball!
Difficulties with relationships are the subject matter of the next two tracks: "She Took Back Her Heart", a quiet track with brushed cymbals and high note harp tells of how Dave feels when the girl ends things: "She took back her heart …she still has mine". "Long Highway" is an upbeat track but the message is the same – the relationship is no longer working. After all that angst Dave feels we may need some humour and tells us about his local barber's shop in a gentle shuffle which includes some of the typical dialogue one might hear in such an establishment. Johnny's sax playing and some twinkling piano are features of this song alongside Dave's harp.
To close the CD Dave revisits his native city with a short solo rendition of "I Left My Heart In San Francisco", the second time that classic has appeared on a Blues Blast review album recently – it was also covered on Frank Bey/ Anthony Paule Band's "Soul For Your Blues".
This is an enjoyable album with some interesting songs that go outside the average blues lyric. The playing is good and it is well recorded and there should be material that will appeal to most blues fans in this one.
BY JOHN MITCHELL