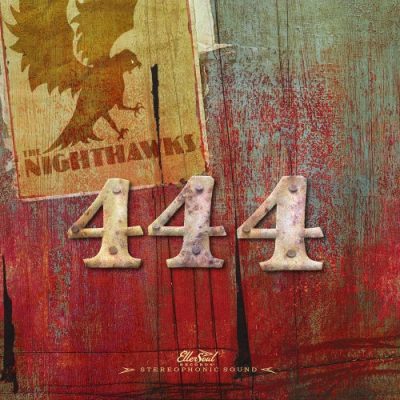 Artist: The Nighthawks
Album: 444
Label: Ellersoul Records
Year Of Release: 2014
Format: FLAC (tracks)
Tracklist:
01. Walk That Walk
02. Livin' the Blues
03. 444 A.M.
04. You're Gone
05. Honky Tonk Queen
06. Got a Lot of Livin'
07. Crawfish
08. Price of Love
09. High Snakes
10. Nothin' but the Blues
11. No Secrets
12. Louisiana Blues
13. Roadside Cross
While Mark Wenner and his various lineups of The Nighthawks have been at it since 1972, they're not exactly a household name. That's not the way it should be. Based in Washington, D.C., the roots rock band has been a hard-driving touring mainstay for decades and have issued a series of exuberant, energetic albums that capture what this outfit can do to get audiences dancing and kicking the blues away. 444 is another happy contribution to this legacy.
Describing The Nighthawks isn't difficult. Think Fabulous Thunderbirds, Robert Cray, Roomful of Blues and George Thorogood, all performers who followed in The Nighthawks' wake. Think Muddy Waters and Carl Perkins, who've been among the more famous luminaries to share the stage with one version or another of the band. Think the blues without long guitar solos or getting low-down and dirty a la Buddy Guy.
Since 2003, the players have remained consistent and led, as always, by Wenner on vocals and wheezing harmonica. They now include Paul Bell (lead guitar), Johnny Castle (bass guitar), and Mark Stutso (drums). But, as demonstrated on the opening track of 444, "Walk That Walk," the full band can join together in joyous old-fashioned rock and roll harmonies like a doo-wop ensemble with attitude. "Walk That Walk," simply stated, announces The Nighthawks intend to have a great time and you're invited.
From that point forward, 444 is a program of The Nighthawks' typical infectious brand of the blues, rockabilly, and country-tinged party tunes. Sometimes, they're out to get you on the dance floor ("Livin' the Blues," "Honky Tonk Queen"), and sometimes they're being entertaining by singing about the joys of things like "Crawfish." Occasionally, they slow it down a bit to say something a bit deeper as in the album's closer, "Roadside Cross." From start to finish, 444 sounds like a rockin' live concert without hearing the audience's responses. That's where you come in.
So try out 444 (when it's released later this month) and the odds are The Nighthawks will finally become a household name, at least in your house. Some very good news is—there's a lot more of this music to experience as well.