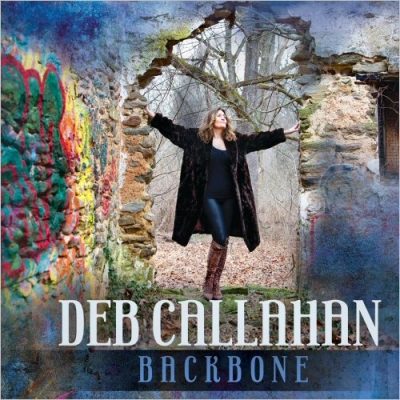 Artist: Deb Callahan
Album: Backbone
Genre: Blues Rock, Blues Soul
Year Of Release: 2023
Format: FLAC (tracks)
Tracklist:
1. What I'm Workin With (3:33)
2. Crazy Ride (4:04)
3. Big Girl Pants (3:54)
4. Rogue (4:20)
5. A Few New Tricks (3:31)
6. Danger Zone (4:37)
7. Still Fighting To Be Free (3:46)
8. Don't Tread On Me (3:35)
9. Cleaning House (4:22)
10. Thought You Were My Girl (4:05)
11. Just What The Doctor Ordered (4:26)
12. Anytime You Want (3:32)
Philly's blues-soul artist Deb Callahan and her band recently celebrated 20 years of performing, touring, recording and entertaining music fans both regionally and around the United States. Deb has released 5 CD's since 2002 (If the Blues Had Wings, The Blue Pearl, Grace & Grit, Tell It Like It is, Sweet Soul) and a limited edition World Café Live DVD. She has graced the stages at many festivals nationwide from The Monterey Bay Blues Festival in Monterey, CA, The Springing the Blues Fest in Jacksonville, FL, The Bayfront Blues Fest in Duluth, MN, The Heritage Blues Fest in Wheeling, WV to WXPN's XPonential Music Festival in her hometown of Philly. Her latest CD Sweet Soul (2015) was recorded and produced by producer/drummer Tony Braunagel (Etta James, Bonnie Raitt, Robert Cray) in Los Angeles, CA and received significant national and international airplay on blues and triple A radio stations and positive press and reviews. "Sweet Soul" made the top 50 contemporary blues albums for 2016 for the US Blues Music Report and Deb has received the America's Music Festival Series in Media, PA Hall of Fame Award, made the top 10 for 2015 for reviewer Mark Gallo and was a Blues 411 2015 "Jimi Award Nominee" – nominated for Best Soul – R & B Album.
Philadelphia's blues and soul drenched vocalist and songwriter Deb Callahan grew up in the Boston area but has been a mainstay on the mid-Atlantic music scene since the late 90's. During this time she has gained a reputation for writing creative blues, soul and roots influenced original music and using her powerful, expressive voice to deliver an exciting live show. Her 2002 debut CD "If the Blues Had Wings" was featured as the hot debut in the October/November 2004 issue of Blues Revue Magazine. Blues Revue referred to her as the next Bonnie Raitt and raved "Philly's Deb Callahan has the pipes, the songs and the raw talent to graduate to the next level". Doing social work in the heart of Philadelphia would be a good place to learn about life's hard knocks and this urban school ground taught singer/songwriter Deb Callahan well. Her rich, honest and soulful tunes resonate with listeners and run the gamut from soulful ballads, to upbeat, dance oriented grooves. Her road tested band includes Allen James, Garry Lee and Tom Walling.
The songs from "Sweet Soul" were written during the first few years after becoming a new mom to her son Elijah. This experience of being a new mom was a sweet and rich phase of life and had a direct impact on her writing and focus in her life. Deb worked with James and Chris Arms (who produced Deb's last 3 CD's) to write the original material and with producer Braunagel to find some gems written by others that fit the vibe as well. The mood of this blues, soul, roots CD is upbeat, rockin, funky and fun and explores the theme of love and family with an honest and at times humorous view into both its joys and challenges. This includes the experience of loving a child or partner, the connection and sweetness you feel when you slow down and just be present with ones you love, the pain and difficulty of letting go of a family member, the ups and downs of living with someone, the inner tension about balancing family and career, the energy it takes to keep things running to do a lot of different things in life.