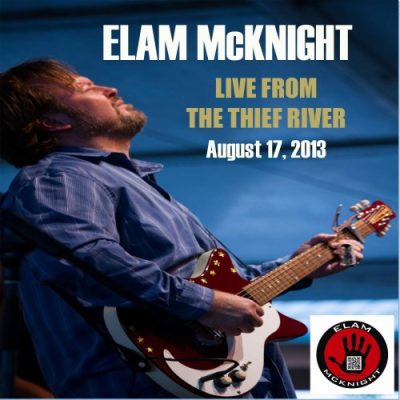 Artist: Elam McKnight
Album: Live from the Thief River
Label: Big Black Hand
Year Of Release: 2013
Format: FLAC (tracks)
Tracklist:
01. Wolf Thang (Live)
02. Pojo's Place (Live)
03. Devil Minded Woman (Live)
04. Dust My Broom (Live)
05. Love Me (Live)
06. Brother to a Stone (Live)
07. Zombie-Fication (Live)
08. Hoochie Coochie Man (Live)
09. Have You Ever (Live)
10. Kung Fu Power (Live)
11. People Get Ready (Live)
12. I Buried a Black Cat (Live)
Elam McKnight is a singer/songwriter from West Tennessee. He is an artist firmly based in the roots of his region (Blues, Rock, and Country). McKnight's solo debut, 2003's Braid My Hair, was hailed by critics as a breath of fresh air in the sometimes-stale climate that is predictable "bar band" blues, while his second album, 2005's The Last Country Store, found a spot on many blues charts internationally and in America. McKnight's 2007's Supa Good earned notoriety when the opening track, "Devil Minded Woman," was voted by fans as the Best Blues Song in the Musician's Atlas sponsored 7th Annual Independent Music Awards.
In 2011 McKnight released Zombie Nation with Universal Music Group and his newest musical partner Bob Bogdal. The album featured the exceptional musicianship of Grammy award winning Tom Hambridge. Zombie Nation received immediate critical acclaim for its hell bent insistence and feet planted deeply in a blues groove all the while testing the genre's limits. The album topped many year end "best of " charts and received radio airplay worldwide.
McKnight is currently working on his 5th studio album on his own Big Black Hand imprint which will stretch out further and delve into a more rock vein and is preparing a Live release entitled Live from the Thief River from McKnight's recent live show opening for Jonny Lang at the 2013 Last Ride Blues Festival. McKnight has also put the finishing touches on his own studio, Magic Lantern Studios, which will allow him the flexibility to make more releases directly to his fan base and the world at large.