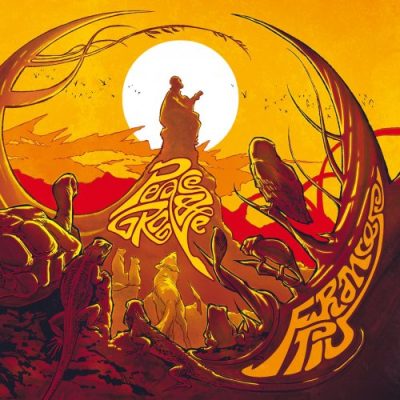 Artist: Francesco Piu
Album: Peace and Groove
Label: Appaloosa Records
Year Of Release: 2016
Format: FLAC (tracks)
Tracklist:
01. Hold On
02. You Feed My Soul
03. My Eyes Won't See No More
04. In the Cage of Your Love
05. Mother
06. Black Woman
07. All the Love
08. Rough God Goes Riding
09. Crumbled Stones
10. Give Peace a Chance
A mix of blues, funky, soul and rock in acoustic way and we have Francesco Piu, defined from Guitar Club magazine "a truly force of nature!". Singing and playing acoustic guitar, dobro, weissenborn, banjo, lap steel and harmonica this young Italian bluesman from Sardinia, in the last years has increased his importance in italian and international blues overwiev. Playing in most of important blues festivals (IBC Memphis, Cognac Blues Passions, Pistoia Blues, Blues To Bop, Narcao Blues, Magic Blues, Santa Blues de Tenerife, Blues en Bourgogne, Blues au Chateau, Salaise Blues, Milano Jazzin Festival, Schtumm, Trasimeno Blues and many more) opened shows for John Mayall, Johnny Winter, Jimmie Vaughan, Robert Cray, Charlie Musselwhite, The Derek Trucks Band, Robben Ford, The Fabulous Thunderbirds, Sonny Landreth, Joe Bonamassa, Larry Carlton, Albert Lee, Brent Mason, Joe Louis Walker, Eric Sardinas, The Holmes Brothers and he played and shared the stage with artists like Tommy Emmanuel, Eric Bibb, Roy Rogers, Guy Davis, Bob Stroger, Andy J.Forest, Sugar Blue, Watermelon Slim, Kevin Welch, Sandra Hall and many others. january 2010 he won the italian contest and he played at INTERNATIONAL BLUES CHALLENGE in Memphis, Tennessee, representing Italy.
He recorded three albums for Groove Company: the debut solo album BLUES JOURNEY (2007) where he played everything his own; then LIVE AT AMIGDALA THEATRE (2010) a live album in trio, and the last studio album MA-MOO TONES, released in February 2012, with the extraordinary artistical production by Eric Bibb. With this album (in "Buscadero" Magazine Top 10 albums of the year) Francesco has been definitely installed in blues national scene and plays in new stages in France, Spain, Canada, UK, Norway, Switzerland, Belgium, Slovenia and Germany. In october 2013 he plays at the legendary club "El Mocambo" in Toronto and at the "Rainbow" in Ottawa, Canada.
After the release of his last album LIVE AT BLOOM Francesco goes on tour in USA in January 2015: he plays in Mississippi ("Club Ebony" in Indianola, "Ground Zero", "Shack Up Inn" and "Red's Juke Joint" in Clarksdale), Tennessee ("Center for Southern Folklore" in Memphis) and California ("House Of Blues" in Los Angeles and "Biscuits and Blues" in San Francisco) and records at legendary SUN STUDIO in Memphis.