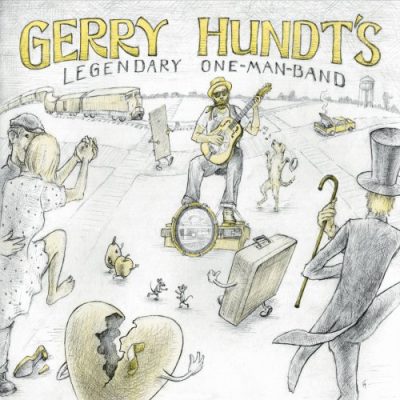 Artist: Gerry Hundt
Album: Gerry Hundt's Legendary One-Man-Band
Label: Steadygroove Music
Year Of Release: 2015
Format: FLAC (tracks)
Tracklist:
01. Market Morning Reel
02. Stompin' & Shoutin'
03. Walkin' Blues
04. County Line
05. Sunset
06. Salty Dog
07. Freight Train
08. Broadway Boogie
09. Goin' Away Baby
10. Coffee Creek
11. Take It Outside
12. Broke Down
13. Kitchen Dance
14. Baby, What's Wrong With You
15. I Shall Not Be Moved
Gerry Hundt is a wunderkind of a blues and old-timey music multi-instrumentalist who plays as many roles as he does instruments, performing as a bandleader as well as a sideman, in full bands, quartets, trios, duos and solo.
But his "Legendary One-Man Band" has become Hundt's alter ego, just as, say, Spiderman is Peter Parker's. And to see him in action on his guitar/harmonica/bass drum/snare rig one wonders if Hundt was bitten by a radioactive boll weevil in his youth, enabling him to tear it up on his own terms, transforming from merely Gerry Hundt, musician, into "Gerry Hundt the Legendary One-Man Band," sprouting stringed instruments, rack attachments and foot devices, and bursting into a set of hot, rag-time blues. I mean, I don't know, but then there was that time he "went to Colorado," and came back a full-fledged one-man-band-kind-of a musician. I'm just sayin'.
Okay, then how and why does he do it? Is it just because he can—like chewing gum and walking at the same time—but while solving a Rubik's Cube, giving a fiery filibuster and dancing a tarantella? You know, there are musicians, and there are performers. And then there are entertainers. Hundt is an entertainer—in the classic sense of "all-in and fully involved." In the tradition of musical gizmo geniuses Jesse "Lone Cat" Fuller, Joe Hill Louis and Dr. Ross, he's a guitar-pickin', drum-thumpin', kazoo-blowin' kinetic combination of Rube Goldberg, Blind Boy Fuller, the Mississippi Sheiks and a medicine show at a tent revival meeting…
"People ask, 'how do you do all that?' Well, you don't think about it. I mean, I can't. If I thought about it, it would never work. It's like Charlie Parker said, 'You learn your act, and then you forget about everything.' That's kind of the way it is. I don't take a lot of guitar solos when I'm doing the one-man band. The guitar is the glue that holds everything together between the harmonica and the drums. The harmonica is sort of the variable in the equation. The harmonica and the kazoo get to be the melodic elements in the one-man band and they get to sail around and do crazy stuff. But the drums and guitar, they have to be locked together at all times.
"It's just practice—doing it all the time. When you start out, you walk. [i.e., use both feet] Bass drum, high hat. Bass drum, high hat. And some folks don't get past that. [But] Doctor Ross and Joe Hill Louis—it was just quarter notes on everything. And that's a lot harder to do than you would think.
"The Big John Wrencher Maxwell St. Alley Blues record (Barrelhouse, 1969) was a touchpoint for me. I wanted to re-create that feeling of a Chicago blues band for myself and the way that I heard things. I was strictly electric when I started out and I got more acoustic over the years. There's a couple electric tracks on that CD that kind of hearken back to that."
Hundt is speaking of his new CD, Gerry Hundt's Legendary One-Man Band (Steady Groove), and the electric tracks he is referencing are his originals Stompin' and Shoutin', Broadway Boogie and his take on Jimmy Rogers' classic, Goin' Away Baby. Hundt approximates the spirit of that drum-crashing, cone-rattling, shout-through-the-harp-mike, street-corner Maxwell St. scene where Big John Wrencher, Guitar Buddy and "Playboy" Venson played in the 1960s and '70s. But of course, he is doing it all himself. As someone who was there and sat in with those guys, I assure you Gerry Hundt would have been a right fit.
And the tracks on which Hundt plays resonator guitar faithfully elicit a pre-electric era, as his take on the familiar Walkin' Blues, and his originals, the bouncy hokum number Take it Outside and the stomping, tear-down-the-jook-joint County Line. The latter deserves special mention for its marvelous Doctor Ross' inspired doubling of the guitar and harp lines on a deceivingly bright and bouncy number with dark undertones…