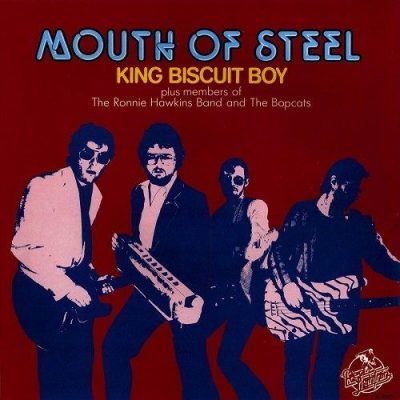 Artist: King Biscuit Boy with The Ronnie Hawkins Band
Album: Mouth Of Steel
Genre: Blues Rock
Label: Red Lightnin'
Year Of Release: 1984
Format: FLAC (tracks)
Tracklist:
Georgia Slop
Done Everything I Can
Mama Luchie
Neighbour, Neighbour
Down The Line
Hoodoo Party
Route 90
Terraplane Blues
It's My Soul
Necromonica
Get It Right
Look Out Mabel
Step Back Baby
Mouth of Steel marks the return of Canada's legendary bluesman King Biscuit Boy to recording after an unfortunate 10-year absence. Biscuit, also known as Richard Newell, of Hamilton, Ont., apprenticed with Rompin' Ronnie Hawkins and served with the Canadian blues band Crowbar before striking out on his own. His confident comeback album ably showcases his gutsy voice and mournful harmonica style. The piano boogie of "Route 90" and the Latin-tinged instrumental "Necromonica" display his considerable talents and those of his skilful session players. The album's real gem is "Done Everything I Can," on which Biscuit bends harmonica notes as soulfully as he contorts his own gravelly vocals. Mouth of Steel communicates enough intense emotion to reaffirm King Biscuit Boy's claim to the throne of Canadian blues.