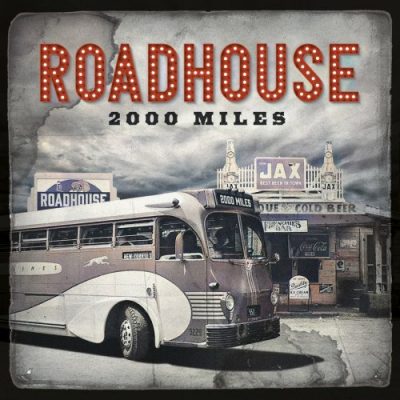 Artist: Roadhouse
Album: 2000 Miles
Label: Dark Road Rekords
Year Of Release: 2022
Format: FLAC (tracks)
Tracklist:
01. 2000 Miles on the Road (6:13)
02. Better Days (7:10)
03. Resurrection Man (5:49)
04. Believe (Mandie/Robin Version) (3:36)
05. Death of the Blues (6:32)
06. The Truth (6:16)
07. Steamboat Song (4:32)
08. Believe (Gary/Kelly/Danny Version) (3:34)
09. The Crying of the Wolf (8:56)
'2000 miles' is a typical Roadhouse album featuring Gary Boner's narrative driven songs straddling rock, blues, Americana and Southern Rock with subtle dynamics, over arching themes supported by Martin Cook's redolent art work, and neat acoustic into electric arrangements topped by salient hooks.
In truth, a stronger production and a better lead vocal might have made it a contender for a first rate gothic film soundtrack, the kind that draws you in with a mixture of dark narratives, intricate band interplay and characters brought to life by contrasting vocals.
Anyone unfamiliar with the band might struggle to get beyond the opening brace of tracks on which vocalist guitarist and songwriter Gary Boner manfully delivers his excellent lyrics with a coarse vocal husk that is closer to Tom Waits than the grungy feel of the later Neil Young influenced anthem 'The Crying Of The Wolf'.
I sometimes think he is a man born slightly out of time to be thematically cast in the slipstream of Barry McGuire enduring 'Eve of Destruction', though over the course of 3 decades his lyrics have made the most of what his noir filled imagination offers him.
You should persevere with this album as it is home to handful of excellent songs, most notably the slow building 'Better Days' – on which Gary's rasp is supported sweetened by the full compliment of bv's from Kelly Marie and Mandie G – while the two alternative versions of 'Believe' gives the album welcome breathing space.
Special guest Robin Bibi evokes both George Harrison and Family's Charlie Whitney with some delicious slide playing as Mandie phrases with great purpose.
The reprised version finds former band guitarist Danny Gwilym on sultry string bends which finds the perfect foil in Kelly Marie's vocal flutter.
And sandwiched between the two is the quite magnificent 'The Truth' which finds Boner paired with Mandie G as the duo bring to life his cinematic noir filled lyrics: "A coffee that's cold, and an engine that old, roads forgotten, we lived this dream before and that the truth. A grey morning light with vultures in flight, same old story."
It sounds like a song that could fit the concluding part of a Cohen Brothers film with a gothic narrative feel, as evidenced by: "blood spilled out on the desert sand, headlights shines out on the broken land and nothing still matter."
This song is what everything else on the album aims for in terms of a succinct arrangement, heartfelt lyrics and plaintive vocals.
It's part of an album that grows by degrees and like a steady rolling river flows into the closing 8 minutes plus archetypal Roadhouse anthem 'The Crying Of The Wolf'.
An acoustic into electric and buzz chord intro gives it a heavier grungy feel on which Boner delivers his best vocal, while Kelly makes the most of more excellent couplets leading into a climactic solo.
"I'm dressed in black again, Tides from the moon, Singing those hymns and then, I'll be home real soon."
It's testament to Boner's writing skills that after more than 3 decades in the saddle he still comes up with original songs imbued with his signature narratives and anthemic music.
'2000 Miles' is an almost world weary title, but it also suggests the band's own subtext, that of perseverance in the face of adversity, with the loss of 3 members over the years, a lead guitarist forced off the road by ill health and Boner's own health problems which would have seen off a lesser man.
In that context, his coarse growl is that of a man who continues to fight to shine the spotlight on his band and his own consistently good songs.
Even the near misses like 'Resurrection Man' have a certain grandeur which is in no small part due to Chris Walkers significant guitar work.
There are further guitar explorations on the smouldering 'Death Of The Blues' on a slow build featuring Mandie G's expressive phrasing and anchored by Frank Dymore and Bill Hobley's hypnotic rhythm pattern. Boner's unique narrative leads to a slide-led harmonized hook: "Ain't no soul, no legacy, we have lost our history, we fail to choose, forgotten."
There's room too for a trip down to Mississippi for the historical imagery of 'Steamboat Song'. It's sung by Kelly Marie over an infectious rhythm track and a subtly rising guitar break that apparently finishes the track with a flourish, only to lead to an unexpected return to the chorus.
This is an album with much to digest. It's the result of hard work, persistence and the kind of belief that brings substance to the songs and lends the two alternative tracks their title.
It's an album well worth searching out, if only to confirm Gary Boner as a hugely underrated songwriter and his band Roadhouse one of the UK's most consistent roots rock outfits.
Review by Pete Feenstra