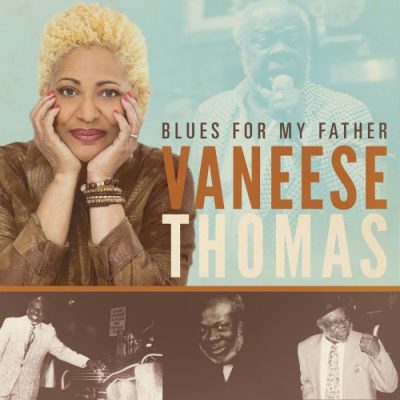 Artist: Vaneese Thomas
Album: Blues for My Father
Label: Segue Records
Year Of Release: 2014
Format: FLAC (tracks)
Tracklist:
01. Southern Central Blues
02. 10 X the Man You Are
03. Wrong Turn (feat. Carla Thomas)
04. Wrap Your Arms Around Me
05. Corner of Heartache and Pain
06. Can't Ever Let You Go (feat. Rufus Thomas)
07. When My Baby Gets Home
08. Love'em and Leave'em Behind
09. Southern Girl (feat. Kirk Whalum)
10. Lonely Me
11. The Old Man Down the Road
12. Blue Ridge Blues
Being born into a legendary musical family is a mixed blessing with the pressure of following in giant footsteps. However, singer and songwriter Vaneese Thomas, daughter of Rufus and younger sibling of Carla, has no worries. "Soul" courses through her veins, mixing with extraordinary talent in a breathtaking synthesis of limitless musical expression. Her fifth release, "Blues For My Father," a mix of blues and R&B should be the breakthrough she has earned and deserves.
Ten original tracks written by Thomas and two covers feature Buddy Williams, Shawn Pelton, Joe Bonadio and Perry Gartner (drums), Will Lee, Paul Adamy, Steve Spear, Ray Sanders and Ernest Poccia (bass), Robbie Kondor (organ, harmonica) and Jon Cobert (piano), Tash Neal, Jeff Mironov, Al Orlo, Donnie Baer, Bruce McDaniel, Wayne Warnecke, Nick Moroch and Rob Mathes (guitar), Marvell Thomas, Paul Schaffer, Ricky Peterson, Shelton Becton and Darryl Clayton (organ), Bill Harris, Jim Spake and Kirk Whalum (saxes), Tim Ouimette and Kenneth Jackson (trumpet), Berneta Miles, Carla Thomas, Marvell Thomas, Angela Clemmons, Alan Gorrie, Sharon Bryant and Dennis Collins (background vocals).
Deep rooted country blues on 'Southern Central Blues' have Thomas yearning "I been a'waiting, sitting at the station, been a'watching with great anticipation, the tracks that will bring you back to me…." The swinging shuffle '10X the Man You Are,' presents Thomas "cutting" a former lover: "He's one, two, three, all that's good to me. He's four, five, six, a man who don't play no tricks. He's seven, eight, nine, more than I thought I'd find. He's 10 x the man you are…." A jewel among gems, the duet with Carla on the R&B 'Wrong Turn' showcases her throaty, sensuous chops with "Well, I was headed in the right direction, staying steady in my lane, but temptation pulled me off the road," while the sisters harmonize like blue angels on the chorus.
Thomas smolders on the minor funk 'Wrap Your Arms Around Me' with "Wrap your arms around me, baby, tell me this is for sure not maybe, squeeze me tight and never, never let go. Lay your head upon my shoulder, help me be a stronger soldier…" The minor shuffle 'Corner of Heartache and Pain' finds Thomas exorcizing hurt through "I been living, baby at the corner of heartache and pain, since you left me, baby, every day feels the same…I did the best I could, everybody tried to warn me, you didn't mean me no good." Like Natalie Cole's 'Unforgettable,' Thomas sings a poignant duet with her late dad on 'Can't Let You Go,' immense emotion pouring forth with "Darling, I love you, tell me, won't you tell me, you love me, too."
The stomping 'When My Baby Gets Home' gets contemporary with "Cheated once, cheated twice, but that's all over starting tonight. Throw my bags in the back of my ebony Benz, I'll be long gone when my baby gets home." Thomas is combative on the funky 'Love 'Em and Leave 'Em Behind' with "Mercy, mercy, mercy me he's giving me the eye, you wanna make your move on me, come on and give it a try…if you think I'll be one of your fools, nothing's farther from the truth." The slow, sexy 'Southern Girl' tantalizes with "Every night when I sleep, memories of my childhood creep. Women fast and men so fine, beneath the Mason-Dixon line I'm a southern girl."
Menacing swamp blues emphasize the rueful poetry "All the while you were undercover, yes you were hiding in the shadows with your other lover…stars in my eyes, you wore a clever disguise, my, my, my" on 'Lonely Me.' John Fogerty's mythical 'Old Man Down the Road' becomes a heavier, bluesier and more authentic bayou cautionary tale. Accompanied only by guitarist Rob Mathes on 'Blue Ridge Blues,' Thomas ends her riveting set with her dynamic range unleashed on the tear-stained "Please come back still echoes, still echoes through these hills…haven't I paid my dues. I'm sorry, oh my darling, that I was untrue, can't you come back and take away these blues."
Vaneese Thomas in an artist with grace, intelligence and a magnificent voice capable of expressing tough and tender emotions effortlessly. She is a cultural treasure and a natural resource to be used for heat and warmth.