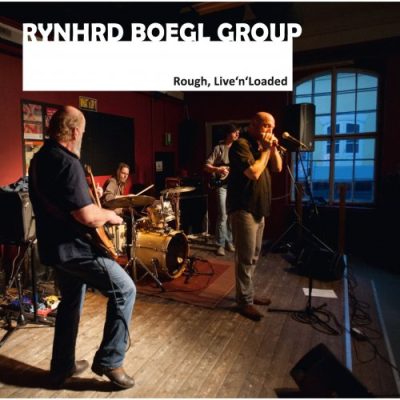 Artist: Rynhrd Boegl Group
Album: Rough, Live'n'loaded
Label: Alessa Records
Year Of Release: 2012
Format: FLAC (tracks)
Tracklist:
01. She Caught the Katy
02. Leather Jacket
03. Pussycat Moan
04. I Want U 2 Come Back
05. Tribute to Bo
06. Rock Me Babe
07. Rollin & Tumblin
08. Ain't Nobody's Business + Harp Boogie
09. My Babe
10. Dust My Broom
Although this is still a relatively young band, each of the four musicians has its 30th anniversary on stage already behind. To talk about an "old-men-band" would be just as wrong as the blues is described as "sad melancholy". On the contrary, the decades of live experience on stage is converted into pure energy, an energy that hardly anyone can avoid. The result was once aptly called "mal-edged, then rousing cheerful, powerful blues-rock".
Fritz Glatzl makes the edged part of the sound on electric guitar. He has over three decades of experience on live stages with one of the eldest Blues Band of Austria – the "Bluespumpm". His uncomplicated personality can be heard clearly without compromise in the reduced to the bare minimum, groovy style of play.
This fit perfect for the powerful, virtuoso harmonica from frontman Rynhrd Boegl. Classifying his style of playing the harmonica can be done hardly: There are traditional sounds, sounds similar to a distorted guitar, and then you can hear an organ or a horn. Everything is possible and nothing forbidden, so Rynhrd makes the harmonica and the rough vocal qualities the high level of recognition of the band.
For the necessary rhythmic supply of "Rynhrd Boegl Group" two well-trained instrumentalists are in this band. Their broad musical spectrum makes the uniqueness of the overall sound perfectly.
Tom Siegl on bass is at home in soul and jazz as well as in the Latin American music and rock. Only a few notes, then again provocative melodies – what the song needs will be reliably identified and completed together with the drummer.
On drums there is Andreas Szelegowitz, a master on many instuments: drums, percussion, guitar, piano, composition and arrangement. He and Tom just serve the same purpose: to provide the basis for an independent driving and explosive blues-rock band.
In the live programm there are many compositions of the band – "the own stuff can be done at the best". And with respect for the great masters on live stages can also be heard many classics of the genre. Songs like "Rock Me Baby" (BB King), "Rollin 'And Tumblin" (Muddy Waters), "Just Got Paid" (ZZ Top), "My Babe" (Little Walter) or John Mayall all time hit "Room To Move" will be interpreted in the own "Rynhrd Boegl Group"- style.
Rough and dirty blues without resorting to clichés, with the unmistakable energy of handmade rock. Presented in a virtuosic and energetic style, reflecting the roots and the modern urban spirit.