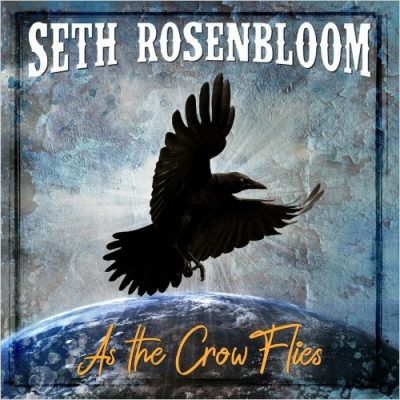 Artist: Seth Rosenbloom
Album: As The Crow Flies
Year Of Release: 2023
Format: FLAC (tracks)
Tracklist:
1. As The Crow Flies (5:29)
2. Did You Try To Break My Heart (7:37)
3. Set Me Free (4:33)
4. Can't Trust Your Neighbor (4:44)
5. I Wish You Could See Me Now (5:10)
6. Ain't Nothing Wrong (3:21)
7. Blind Eye (4:35)
8. Gotta Roll (3:55)
9. Give Me The Ring Back (7:48)
Boston Blues musician Seth Rosenbloom is pleased to announce the upcoming release of his new album, As The Crow Flies.
As The Crow Flies builds on the strength of those earlier efforts with confidence and credibility, demonstrating why he ranks as one of the most assertive and authoritative artists in the Blues realm today. Recorded over four days during March 2022 at Rear Window Studios in Brookline, Massachusetts, it found Seth himself stepping into the producer's chair. The rhythm section was comprised of some of New England's finest: drummer Mark Teixeira (Duke Robillard), bassist Jesse Williams (North Mississippi Allstars, Al Kooper), guitarist Ryan Taylor (Band of Killers), and pianist and organist Bruce Bears (Duke Robillard, Curtis Salgado). 
"For me, playing great music is all about being able to convey a wide range of emotion authentically," guitarist and vocalist Seth Rosenbloom insists. "I was drawn to the blues at a young age because that has always been very evident in the Blues." 
The promise was evident early with the release of his debut self-titled EP and grew even more potent when his first full-length album, Keep On Turning, climbed to the top of the charts upon its release in 2019. 
Notably, Seth points with pride that his dad, Michael Rosenbloom, arranged the strings and played violin on a track on the album "Can't Trust Your Neighbor."
"I wanted to bring a 'live' feel to this record," Seth suggests. "We captured as many of the solos live as possible and focused on ensuring the energy was right for each song."
That attention to detail is both clear and convincing. Moreover, the entire album reverberates with an unrelenting drive and delivery. The riveting intensity inherent in the barbed refrain of "Did You Try To Break My Heart" is matched by disappointment and defiance shared through "Set Me Free." "Blind Eye," on the other hand, conveys its message through a steady sway and strut while emphasizing the bitterness of betrayal through Seth's searing guitar riffs and expressly emphatic vocals. Those torrid feelings are expressed with unrelenting energy and vitality, making As The Crow Flies one of the most unforgettable offerings in recent memory.
"Placing myself in the producer's chair for this album was initially a challenge," Seth reflects. "Yet, having learned so much from working with Josh Smith on my last album. I felt up to the task, and thanks to a great team, it worked out even better than I could have anticipated."
Then again, Seth's no stranger to making music. Born into a musical family and raised just west of Boston in Waltham, Massachusetts, he began playing classical violin as a child and subsequently took up guitar at age eleven. Initially inspired by the music of Elvis and The Beatles, he earned a performance merit scholarship from Berklee College of Music by the time he was 16. 
After spending a few years as an active sideman and in-demand clinician, Seth further expanded his reputation by spending much of the last few years on the road, introducing himself to newly enthusiastic audiences while demonstrating at each stop his clear commitment to his craft and his ability to share his verve and versatility. He's toured all over the U.S. and the U.K. and even shared a stage with Joe Bonamassa. Whether demonstrating his dazzling guitar riffs and stinging vibrato or emoting with his soaring and sultry vocals, he brings unprecedented power and personality to each performance. That ability is again underscored by the soaring sentiments expressed through As the Crow Flies.