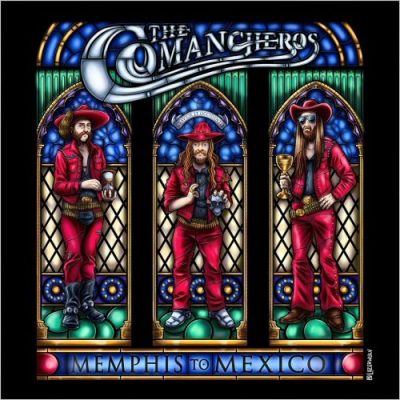 Artist: The Comancheros
Album: Memphis To Mexico
Label: Treehoss Records
Year Of Release: 2022
Format: FLAC (tracks)
Tracklist:
1. Old Mexico (3:45)
2. Shoot Me Down (4:13)
3. If I Was A Cowboy (4:17)
4. Yellow Roses (4:45)
5. Happy Birthday To Me (4:39)
6. Blue Yodel In G (3:29)
7. If I Could Pick A Way To Go (3:32)
Heavy Western rock and rollers The Comancheros get high, lonesome, and loud on their new album Memphis to Mexico.
The record dropped November 24th, 2022 on Treehoss Records and shines a bright light on the group's unique take on American roots music. The Comancheros play music that combines classic rock, blues, and country DNA with a Western/cowboy way of looking at the world. It's incredibly infectious and makes perfect sense as soon as you hear it. Richard Young of The Kentucky Headhunters produced the set and got one scorching performance after another out of the high-octane Missouri trio. It's the third release of The Comancheros' expanding career and displays a high-level grasp of their genres that allows them to create songs that bend brilliantly in unexpected directions.
The Comancheros' lineup of lead singer Tanner Jones, drummer Michael "Bobcat" Cook, and bassist/vocalist Jon "Deere" Green are a talented and energetic bunch who have grown by leaps and bounds under Young's mentorship and influence. They swiftly go from classic rock anthems and dramatic ballads to roadhouse-approved alt-country and Texas-style blues/rock.
The seven tracks contained on Memphis to Mexico make up a record that has the hooks and grit needed to crack the mainstream and it's likely that it will be a breakout effort. They've been spreading their word since 2015, shared gigs with Randy Rogers, The Cadillac Three, Drake White, The Steel Woods, Alabama, Whiskey Myers, Blackberry Smoke, and the Nitty Gritty Dirt Band, and written the best songs of their career. Their moment seems to be at hand.
Memphis to Mexico kicks off with the stadium-ready "Old Mexico." It's a definite fist-pumper that blends Heartland dirt with a Kiss/Poison sense of grandeur. Tanner Jones has the vocal skills to rock the big rooms and, with party-starting tunes like this, The Comancheros should be doing exactly that very soon. The guitar work is equal to the singing and showcases nimble lead chops, tight rhythms, and a little jangle. 30 seconds in and you're hooked. The double kick drums at the end make the track a perfect thing.
"Shoot Me Down" is a drinking song that punches hard yet still inspires the urge to dance. Its magic comes from the mix of a ZZ Top-ish groove with an inherent tunefulness that makes it vibe like a smash hit. Factor in the ripping guitar work and you've got a winner on your hands. It's this kind of genre-bending that makes The Comancheros stand out from their peers. Lots of folks attempt it but these fellows actually make it work.
The record's lead single, "Yellow Roses," is an old-school country song rendered here in rock and roll colors. The twang and dirt place it somewhere between The Rolling Stones and The Georgia Satellites, which is a pretty happening place to be. It backs up its cry-in-your-beer emotions with overdriven guitars that provide the catharsis needed to keep living. Just got dumped? Crank this one up right away.
"Happy Birthday To Me" continues the drink-and-cry energy at a higher tempo. It tells us the tale of a friendless person drowning their birthday in beer by themselves. It's a full-on bar-buster, though, not a weepy ballad, and rocks like a night you can't really remember the next morning. This is The Comancheros at their best, reveling in the three chords that made American music great.
Be sure to check out the swampy "Blue Yodel in G" and the mellow acoustic closer "If I Could Pick A Way To Go." Each cut on Memphis to Mexico is worth your listening time, however, and they will quickly pull you into their fold. If you're slick, you won't resist.
by Mike O'Cull